The USA is about as diverse as it get for a family holiday. It's absolutely huge and provides a massive amount of choice when it comes to deciding where to visit. We recently travelled the East Coast by coach which was a brilliant adventure and not as hard work as you would think. And our last trip before all the travel disruption was to Las Vegas where we discovered just how family friendly this city can be. One day we'd love to organise a great American Road trip taking in all the amazing sights and National parks. Until then we've enjoyed visiting small sections of this amazing country. Here are some of our favourite places to visit in the USA with kids.
Florida with kids
Nicknamed the Sunshine state for good reason, Florida has so much to offer if you're visiting the USA with kids. You can opt to visit Orlando and take in the many theme parks. For that you need to read my tips of surviving Disney World and also my Wizarding World of Harry Potter tips.
When we're in Orlando we like to stay in a rental which has kitchen and washing facilities. It really does make life easier when spending busy days at the park. We stayed at Sailport Suites near Tampa which was right on the coast around an hour from the main parks. This gave us plenty of options to explore further away. We spent days at the beach, spending days at sweet towns like St Pete's. And even managed a visit to the wonderful Glazer Childrens Museum which added a bit of education into our holiday.
For the ultimate relaxing break in Florida with kids then head south to the Florida Keys. Home to stunning beaches, fabulous restaurants and fun family friendly activities. Read my ultimate guide to the Family Friendly Florida Keys then check out where we think is the best family friendly accommodation in Key West.
Of course I couldn't skip a quick visit to Miami. One of the most fun cities to visit in the USA with kids. It's colourful, relaxed and pretty exciting. Have a look at where to stay in Miami with kids. 
Las Vegas with kids
I know what you're thinking, Vegas isn't exactly known for being kid friendly but dig a little deeper and there is plenty to keep the whole family entertained. During our visit we discovered so much about this fascinating city at the Las Vegas Boneyard home to all the old Vegas neon signs, each one with its own story to tell.
We also had a great time exploring Old town Vegas with kids, there's so much to see from all the cute street art, awesome play area at the Container park and of course Fremont Street with its zipwire and light show.
We stayed in a few placed during our visit. My favourite was probably Mandalay Bay which is super kid friendly it even has its very own Shark Reef Aquarium.  We also enjoyed the great value Tropicana Hotel. Located in a brilliant part of the strip near all the main attractions. Have a look at this post for more ideas on the best hotels in Vegas for kids.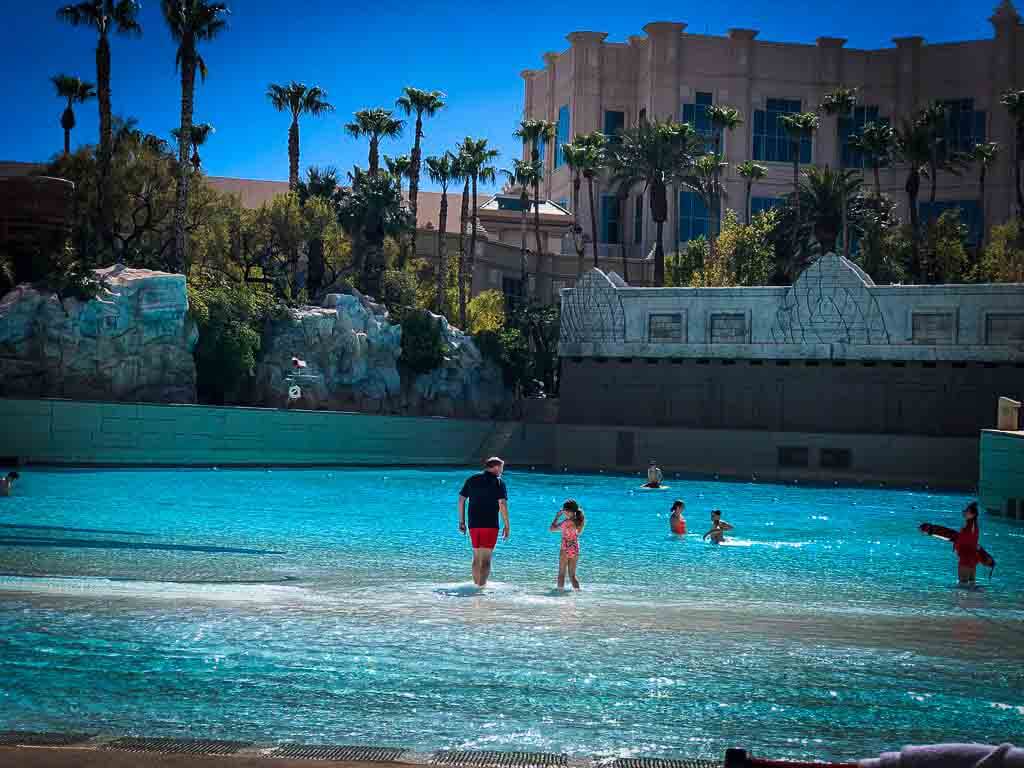 I found Sin city to be a great stop off with kids, there are heaps of free things to see along the Las Vegas Strip. And we even managed to squeeze in a quick wedding vow renewal with kids in! What a holiday.
Washington with kids
Washington DC is a fabulous city to visit with kids in the USA. It's full of fascinating history, places to visit and gorgeous memorials. Read this full guide on planning a family holiday to Washington.
Of course we had to stay at the iconic Watergate Hotel in Washington DC. Famous for dodgy political dealings with a rich history it is now a modern gem of a hotel and located right next to the delightful Georgetown waterfront.
One of the main reasons for taking the kids to Washington DC is the wealth of free museums. Run by the Smithsonian Institute you could easily spend a week just museum hopping! The Smithsonian Museum of Air and Space surprised us both by just how fascinating it was. And the Smithsonian National Zoo, located a little outside the city was a brilliant day out with heaps of animals to see and learn about.
I think my personal favourite was the Smithsonian Museum of Natural History. We learnt so much about the world around us.
Philadelphia with kids
Philadelphia just feels like a very cool city. It's welcoming and super family friendly. Have a look at what I recommend doing in Philadelphia with kids if it's your first time.  Do not miss a visit to the liberty bell, a brilliant historical spot to learn more about the countries past.
For somewhere centrally located to stay Check out the Windsor Suites Philadelphia, a wonderful all suites hotel with the best rooftop pool in the city. Perfect for relaxing after a busy day exploring.
For a spot of Educational fun, we absolutely loved the Franklin Institute a wonderful hands on Science museum. And youger kids will be fascinated by a visit to the Please Touch Museum. Philadelphia's very own Childrens museum.
Boston with Kids
One of the best places to teach your kids some American history is Boston. It's one of the shortest flights from the UK and an absolute please to wander around. Do not miss walking the Freedom Trail with kids to take in all the sights from the birth of New America. Boston is also home to several family friendly museums. We loved the Boston Museum of Science and got hands on at the highly interactive Boston Childrens Museum.
Read my Boston Park Plaza reviews if you're looking for somewhere to stay in the city with kids.
Chicago with Kids
Chicago was the first US city break we took with kids and we were absolutely blown away by the city. From the fabulous architecture to the vacay vibes at Navy Pier it's all just super family friendly. Learn how to keep the kids entertained in Chicago here.
What are your favourite places to visit in the USA with kids? Tell me where I should head next in the comments.