A family trip to Las Vegas can be a true bucket list vacation. To make the most of your visit you need to choose the right place to stay. A combination of value, family friendly activities and a great location are what you're after. If you're planning where to stay on the strip, these are the best hotels in Vegas for kids. They're all fantastic Las Vegas strip family hotels so you're never too far from the action. They're also home to some of the best Las Vegas pools for families which is high on Pipers list of priorities.
This post contain affiliate links which means I may receive a small commission if you book through them at no extra cost to you.
Make sure you also check out my post on the best things to do in Las Vegas so you can start planning your itinerary for your stay.
Mandalay Bay
Topping the list of the best hotels in Vegas for kids is the stunning Mandalay Bay hotel. This is one of the best hotels in Vegas for kids who like the water. Located right at the bottom of the strip, near the famous Las Vegas sign, this hotel is high end but in a totally unpretentious way. The pools and family friendly eateries are probably the best features for families but there are plenty of other activities at Mandalay Bay for kids.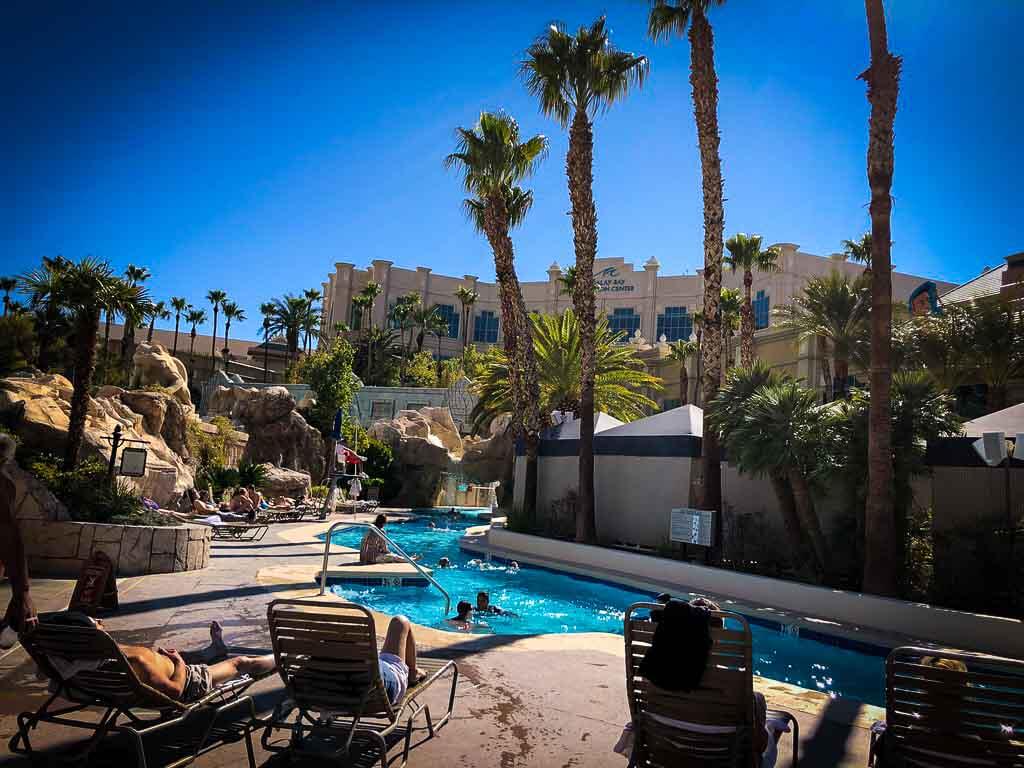 Family friendly features at Mandalay Bay hotel
Mandalay Bay has plenty of family sized rooms and suites which can accommodate larger groups. It is home to a huge pool complex with a wave pool, manmade beach and lazy river. If you can tear the kids away from the pools, head to the Shark Reef Aquarium which is home to over 2,000 marine animals or get your shopping fix at the Shoppes at Mandalay Bay mall.
Due to amount of family friendly attractions and massive rooms, I totally think this is THE best Vegas hotel for kids.
Kid friendly food options at Mandalay Bay
Food options are plentiful and varied. House of Blues is particularly family friendly and the Irish pub is a wonderful place for breakfast.
Check the best prices for Mandalay Bay and read reviews here.
Tropicana Hotel
If you're after a real Vacation vibe, then be sure to check out the Tropicana Hotel Las Vegas which is one of the oldest on the Strip. The style is South Beach Vacation and it's super relaxed. This is also one of the best value hotels on the strip that includes a pool.
Family friendly features at the Tropicana
Staying at the Tropicana with kids is a great option if you're in Las Vegas with kids. Its fabulous location near New York, New York and the MGM Grand means you can head out exploring for the morning and pop back to use the pools without having to walk miles. The Pool area at Tropicana is absolutely beautiful with plenty of sun loungers and a tasty pool menu.
Kid friendly food options at Tropicana Hotel
You won't go hungry at the Tropicana Hotel with kids. You also don't have to spend a fortune which definitely makes it one of the best Las Vegas hotels for kids. The food court at the hotel is pretty good, kids will love the pizza options and adults will love the price!
Check out the best prices and read reviews for Tropicana here.
New York New York
New York New York has to be one of the best themed hotels on the Las Vegas Strip. Sticking firmly to its New York Style, just wandering around this hotel and exploring its exterior design will delight the whole family.
Family friendly features at New York New York
Adventurous kids will love the Big Apple Rollercoaster (54″ to ride) but if is a bit too adrenaline fuelled, head to the Big Apple arcade to try out the latest video and arcade games. You can walk across a replica Brooklyn Bridge where you may be able to catch a live band performing. There's also a brilliant pool to cool down and burn some energy in.
Kid friendly food options at New York New York
There really are so many kid friendly eateries at the hotel. I think kids enjoy picking different places for starters, mains and puds and this is the place to do it. You'll find all the usual pizza, pasta and deli options, all fabulously designed and sticking to the theme. We always treat ourselves to a sweet indulgence from 48th Crepe. Absolutely delicious!
Check out the best prices and read reviews for New York New York here.
MGM Grand
One of the best hotels in Vegas for kids who are in their teens. The MGM Grand Hotel in Las Vegas is packed full of family friendly activities and things to do. It's an absolutely huge resort meaning you'll never get bored, even if you spend the whole week exploring the hotel! The hotel was originally designed to represent the Emerald City from the Wizard of Oz. Seriously, kids will love it! The MGM is located at the Southern end of the Strip and is super close to McCarran airport making it an ideal choice after a long flight.
Family friendly features at The MGM Grand
Where do I start?! The pools are probably one if the main plus points for kids at the MGM. They have two brilliant lazy rivers to float around. The Hollywood theme of the hotel will surely appeal to many of the kids and they're bound to recognise the huge bronze lion guarding the exterior. Older kids will love the many attractions located in the MGM. They can try the CSI Experience where they take on the role of a CSI investigator to solve a crime. They'll also love the Hunger Games Experience which is home to heaps of memorabilia from the movies and have a chance to fire some arrows and save the districts.
MGM is also home to some brilliant family friendly Vegas shows. Both KA by Circue du Soliel and the Jabbawockeez are well worth a visit. You may even be able to head back stage at KA for one of their free daytime behind the scene events. It's fascinating to see just how these shows are put together.
Kid friendly food options at MGM Grand
We love nothing more than mooching around the food hall at MGM, picking up frozen yoghurt treats and great value lunches. But if you're after something a bit more substantial MGM is home to several celebrity chef restaurants. Hecho en Vegas is probably my favourite spot in Vegas for Mexican Food.
Check out the best prices and read reviews for the MGM Grand here.
Paris Hotel
Whilst it's not always possible to pack all the kids up and travel to Europe, you can definitely get a taste of France at Paris Hotel. This is the one of the best hotels in Vegas for kids who have always dreamt of traveling to Europe. In my opinion it's one of the best themed hotels in Vegas. The 540 foot replica of the Eiffel Tower is one of the most recognisable attractions on the Vegas Strip and the unapologetically Parisian theme continues inside the hotel.
Family friendly features at Paris Hotel Las Vegas
Paris hotel has plenty of connecting and large rooms, ideal for family groups. It has a brilliant rooftop pool within delightful manicured gardens. Kids will love the Eiffel Tower Experience where they can head up 46 floors to the top of the tower. It's cheaper before 7pm so add it to your list of Vegas daytime activities. Apart from wandering the hotel to discover all the little French touches, there aren't really any other kid focused activities at Paris Hotel. Don't let that put you off though, the location of the hotel means its easy to walk to many other Vegas attractions.
Kid friendly food options at Paris Hotel
My favourite place to eat at Paris Hotel with kids is Mon Ami Gabi where you can grab a table outside, indulge in some French treats and people watch to your hearts content. Inside the hotel you'll find plenty of French patisseries, bakeries and creperies. There's also the famous restaurant at the top of the Eiffel Tower, which has stunning views and delicious food. This place is very high end and I've only ever eaten there child free but for a special treat it is surely magical.
Check out the best prices and read reviews for Paris, Las Vegas here.
The Bellagio
Located just over the road from Paris, the Bellagio is another beautiful, luxury hotel in Vegas. It is a bit quieter than many of the others mentioned with fewer family focussed activities to entertain. If your kids are likely to be overstimulated this will be a good option for you. And it definitely the best hotel in Vegas for kids who like a slower pace. Plus it really is stunningly beautiful.
Family friendly features at The Bellagio Hotel
Probably the best known attraction at the Bellagio are the dancing fountains located outside the hotel. These fountains come alive each day at 3pm, dancing to music and turn into a lightshow after the sun goes down. Kids are going to want to stay around for the short show, enjoying a boogie. From experience, this can get a little trying if you're trying to get out in a rush! The Bellagio conservatory and botanical gardens is another great place to explore with kids. The design changes with the seasons but is always jaw droppingly good. It's absolutely free to visit and you may even learn a bit about the plants while you're there.
The Bellagio is home to O by Cirque Du Soleil, another great show. Although it is a little creepy in places a lot of the performance takes place underwater making it a very unique experience.
There are no less than 5 pools at the hotel, all with a Mediterranean theme surrounded by pretty courtyards. this is one of the best Las Vegas pools for families. Kids under 14 need to be accompanied when using the pools but we never felt unwelcome.
Kid friendly food options at the Bellagio
Kids are bound to find something to satisfy their cravings at Sadelle's cafe. It serves all the usual American options and is probably the best place on the strip for brunch. It's located right next to the conservatory so a perfect place to visit after you get your fill of pretty plants.
Check out the best prices and read reviews for the Bellagio Hotel here.
The Venetian Hotel
Another European themed hotel on the Vegas strip is the Venetian. It's probably the best hotel in Vegas for kids who are a bit older.. Just like Paris, a huge amount of thought has gone into the theme and design of this hotel. From the stunning exterior of the hotel with its replica Campanile Tower and Rialto bridge to the impress St Marks Square inside the hotel, there's always something to see.
Family friendly features at The Venetian Hotel
You'll be spoilt for choice when it comes to kid friendly activities at the Venetian. The hotel is home to Madam Tussaurds where kids can pose next to all their favourite celebrities. There's also a very cool virtual reality room where you can work together to save the world.
The pool deck is beautifully designed and again Italian themed. There's a smaller splash pad suitable for little kids and plenty of loungers dotted around. I love how this makes it one of the super kid friendly hotels in Vegas
If you're visiting the Venetian with kids then you really must take a gondola ride down the Grand Canal. This takes you all around the hotel and even outside to the front whilst your gondolier serenades you with their favourite Italian songs. Older kids can even take part in the Gondolier university where they'll get to learn how to sail their own.
On top of all this, you'll also find a climbing wall for over tens and the glorious Grand Canal Shoppes where you'll find the prettiest LOVE art installation along with some other great photo ops.
Kid friendly food options at the Venetian
There are so many to family friendly places to eat at the Venetian hotel. Make sure you enjoy at least one meal in St Marks Square which actually does feel like your eating in the famous square in Venice. Our favourite is Mercato della Pescheria which has a brilliant kids menu, colouring pages and delicious pizzas. If you're looking for a treat and surely all of the best hotels in Vegas for kids should have them, then Black Tap serves the absolute best freak shakes in Vegas.
Check out the best prices and read reviews for the Venetian here.
Excalibur Hotel
Kids will love the medieval theme at Excalibur and who doesn't want to stay in a colourful castle playing kings and queens? This is one of the best Vegas hotel for toddlers. They will love the whimsy design and relaxed family friendly vibe to the hotel. Parents will love that this is a great value option in a brilliant location on the Strip.
Family friendly features at Excalibur Hotel
Kids may well want to spend all their time at the pools when visiting the Excalibur Hotel. There are four pools in total. One of which is home to a super fun water slide and one which is adults only. If you can tear them away from the pool, kids will also love the Fun Dungeon. Here they'll find many arcade games, redemption games and specific games for little kids.
Kid friendly food options at Excalibur
The Tournament of Kids dinner show is another family favourite. It's a medieval jousting show based on the legend of King Arthur you watch while enjoying a banquet fit for a king! This is one not to be missed wherever you're staying in Vegas with kids.
Check out the best prices for Excalibur Hotel and read reviews here.
Which do you think is the best hotel in Vegas for kids? Let me know in the comments.
For another great activity in Vegas with kids that isn't actually based in a hotel, try a visit to the Neon Boneyard museum and wonderfully quirky exhibition where you'll learn loads about Vegas past and present. When you're there, make sure you explore the rest of Downtown Vegas for some brilliant kid friendly playgrounds and the iconic Fremont Street.
Make sure to pin for later for the best hotels in Vegas for kids