It might not be everyone's choice of destination but there really is so much more to Vegas than casinos and hedonism. I recently spent a full week exploring the city and didn't gamble once. Some may say I missed out but there really are so many brilliant things to do in Las Vegas you'll never find time for them all. Many of these are free to do so you can save the pennies to visit an amazing restaurant or see a fabulous show.
Explore The Vegas Strip
One of my favourite free things to do in Las Vegas is to walk the main strip. There's so much to see, the hotels are all amazing architectural showcases and you'll find yourselves wanting to explore each and every one. Read more about what to see on the strip and check out some great pictures.
Watch a light show at Fremont Street
Another one which is totally free but still an absolute spectacle is the light show at Fremont Street. Located in Downtown Vegas the Fremont Street Experience showcases the largest light screen in the world 90 feet above your head, covering a whopping four blocks. Each show lasts six minutes and happens on the hour, every hour. The lights are set to music making it a great one to visit with kids. Read more in my post on Old Town Vegas and scroll down to the Freemont Street Experience.
Ride the Slotzilla
Another great Vegas attraction located down town is the Slotzilla zipline. You can choose between two heights, the lowest being seated at 77 feet.  The zipline ride takes less than a minute but it is a truly exhilarating experience. Again you can see more in my Old Town Vegas post.
Shark Reef Aquarium
If you're after indoor things to do in Las Vegas, the Shark Reef Aquarium at Mandalay Bay is a great place to spend a few hours. This is a really popular one with kids, they'll never forget walking through the shark reef underwater tunnel. Find out everything you need to know about visiting the Shark Reef Aquarium and discover what else you'll see.
The Fabulous Las Vegas Sign
Possibly the most iconic thing to do in Vegas is a walk up the strip to the Fabulous Las Vegas sign. You'll see it replicated all across the city but nothing quite beats seeing the real thing. It's located right at the South end of the strip, past the Mandalay Bay convention centre. Aim to arrive super early to avoid the crowds.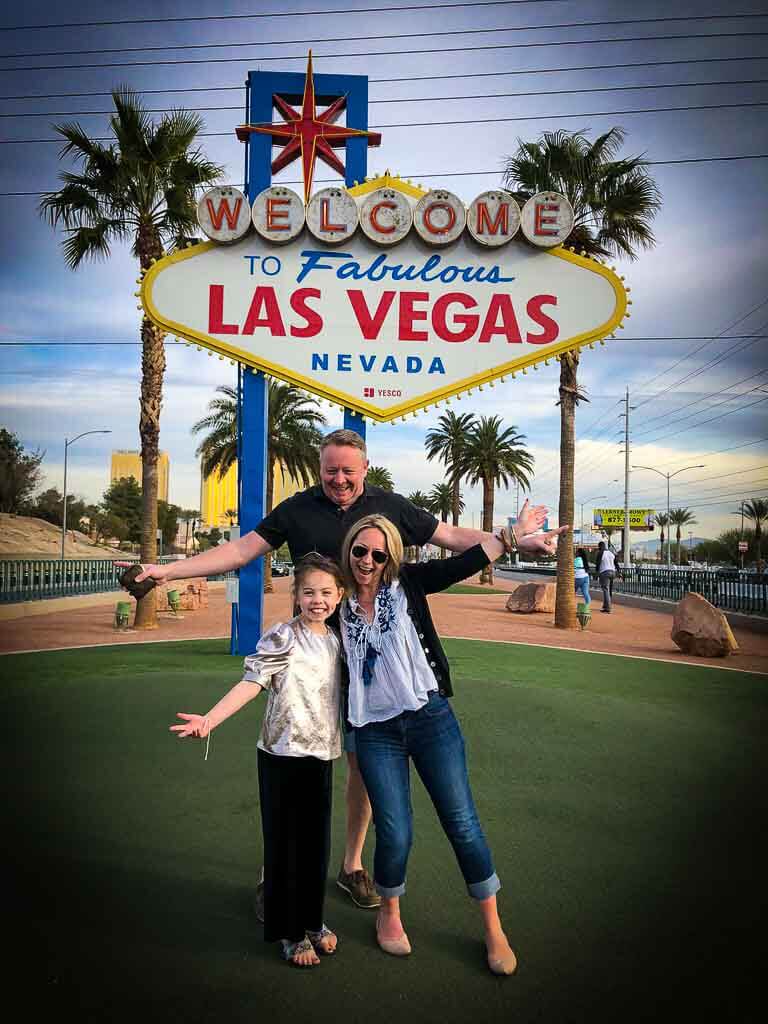 May the odds be in your favour at the Hunger Games Exhibition
If you've ever dreamed of unleashing your inner Katniss Everdeen at the MGM. You'll see all the famous costumes and walk through several of the iconic sets. You can even try your hand at archery at the end of the experience. read about our trip to the Hunger Games Exhibition Las Vegas. It really is so much fun! Book your tickets online or head to the ticket desks at MGM.
Get the perfect selfie
Everyone's sharing their snaps, tik toks and insta reels online these days so it's always fun to come home with some super special ones. Head to the Museum of Selfies to take part in their interactive, themed backdrops and let your inner photographer loose! Book tickets here.
Get lost in the retro Vegas signs
A visit to the Neon museum in Down Town is my absolutely favourite thing to do in Las Vegas. Home to all the old Vegas sign who retire when they are no longer in use. This place is just full of history and friendly tour guides will take you around the outdoors attraction, explaining each and every one. It's vintage, retro and one of the best places in Vegas for photography. Read more about the Las Vegas Boneyard and discover what else you'll see.
Titanic Experience
We've all seen the movie, now it's time to learn more about that fateful trip. Located in Luxor Hotel this exhibit is home to more than 250 artefacts rescued from the ship. You can also walk through perfectly replicated rooms on board, just as they would have been right before the glacier hit. Book your tickets for the Titanic Experience.
Bodies Exhibition
If you've got a strong stomach, Bodies… the Exhibition offers a fascinating insight into the workings of our wonderful bodies, everything that happens under the skin. It has 13 whole body exhibits and over 200 body part exhibits. This is another one located in Luxor Hotel. Book your tickets online and check that this is the right experience for you.
Explore some street art
Vegas is a surprisingly creative city. Head off the strip and you'll find amazing street art, sculptures and plenty of creative performers. The area just outside of Fremont Street is the best place to see it. Have a wander around and make sure you look up at the walls.
Get married (or renew your vows)
Obviously not one for everyone but this really is a super fun thing to do in Vegas. Throw on your glad rags, grab a bouquet and head to one of the many chapels offering a fuss free service. Check out how we went about renewing our vows in Vegas and see our photos from the day.
Visit a show backstage
Vegas shows are absolutely amazing, they're huge spectacles with ridiculously talented performers and intricately design sets. We have loved all the Cirque du Soliel performances we've seen but they sure can be expensive. Some shows offer backstage experiences during the day which provide a fascinating insight into the workings of the show, you'll see the sets, learn hw some tricks are done and get to see the stage, all for free! We went back stage at Cirque Du Soliels Ka at the MGM Grand hotel. Times and days for backstage experiences change so look for the signs outside the theatres or ask an entertainment employee at the hotel.
Play in a container park
One of my daughters favourite things to do in Vegas with kids was a visit to the Downtown Container Park. Located just outside Fremont Street it is home to a brilliant treehouse themed playground with bars, restaurants and cafes housed in massive containers all around the outside. You can't miss it, there's a huge fire breathing mantis outside the entrance. In the evenings this is a great place to listen to live music, and it becomes a bit more of an adult playground. Read more about the Container Park.
Bellagio Botanical Gardens
Another fantastic free attraction in Las Vegas is the Botanical Gardens at the Bellagio hotel. Located just past the reception area this is a gorgeous celebration of all things horticultural. The Bellagio Botanical Gardens display changes every season with themed decorations and displays. It wont take you too long to wander round but it's so worth a visit to discover some new, unusual and pretty plants.
Have a Michelin starred meal
Las Vegas is full of amazing restaurants with new celebrity chef eateries popping up all the time. There are no less than 10 Michelin starred venues to try, including Joël Robuchon at MGM, Picasso at the Bellagio and Nobu at Ceasars Palace. Make sure you book well in advance, these places are popular and sometimes have huge waiting lists.
Or a dirty burger!
If down and dirty is more your thing then head to Fremont Street and book a table at the Heart Attack Grill. Unashamedly unhealthy and basic, waitresses are dressed at nurses and you can order a burger which is over 9,000 calories. Eeeeekkkkk! On entry you can be weighed and are given a hospital gown and wrist band to add to the theatre. This is probably not one to visit with kids, if you don't finish your food, you may get hit with a paddle by one of the waitresses. You can read a great list of family friendly restaurants in Las Vegas to work out where would be more suitable.
Become a member of the Blue Man Group
The Blue Man Group shows are a real family favourite in Vegas, full of humour, colour and talent. You can book tickets to the Blue Man Group Show at Luxor or try your hands on their drums near the walkway to the hotel.
Ride a rollercoaster
Thrill seekers will absolutely go wild for a ride on the rollercoaster at New York New York. The track takes you around the outside of the hotel travelling at almost 70 mph. The Big Apple rollercoaster costs $19 to ride and you must be over 54 inches.
See the strip from above on the Ferris Wheel
For a slightly more sedate view of the strip hop on the high roller big wheel behind Caesars Palace. It will take you 550 feet above the city and takes 30 minutes to complete the full rotation. It's amazing to see the strip lights from above especially after the sun has gone down.
Visit the top of the Eiffel Tower
If you can't make it to Paris, a trip up the Eiffel tower in Vegas is the next best thing. Take a lift up 46 floors to the Eiffel Tower viewing deck and view the city from above. Even if you don't fancy going all the way up to tower is super impressive from below and a brilliant replica of the original.
Wander St Marks Square
The Venetian hotel is one of the most opulent in Vegas with impressive replicas of Venice everywhere you turn. St Marks Square is a hugely atmospheric place to spend a few hours in Vegas, order some great pasta or a pizza, try real gelato from one of the street vendors or watch the performing statues come alive. The art and architecture all around you is absolutely jaw dropping and the hand painted ceiling really brings the outdoors in.
Watch the Bellagio fountains
The Bellagio Fountains have been a huge tourist draw since they opened in the late '90's. The beautifully lit fountains erupt every 30 minutes and every 15 after 7pm. Perfectly choreographed arcs of water dance around the sky to a great soundtrack. It's no surprise that this is one of the most popular attractions in Vegas.
Meet some friendly Flamingoes
Another brilliant free activity in Vegas is a visit to see the Flamingo wildlife habitat at the Flamingo Hotel. This 4 acre garden at the back of the hotel is home to many gorgeous pink flamingos, rare birds and turtles all enjoying the impressively maintained gardens with streams, pools and plenty of shade.
Take a gondola ride
Another Italian treat to enjoy in Vegas is a gondola boat ride at the Venetian Hotel. You'll float down the Grand Canal under bridges, restaurants and pathways taking in both the outside and inside of the hotel. The super talented gondoliers are all incredibly friendly and will sing to you, tell you interesting snippets of Vegas history and happily wave to passers by. It really is a must do in Vegas.
Walk the Brooklyn Bridge
Head to New York New York hotel to walk across the iconic Brooklyn bridge (or replica of). Whilst this one is not quite as big, it's still pretty impressive. The 300 foot bridge is a great spot to take in the impressive towers of the hotel, designed to mimic the famous New York skyline. You'll often find live music concerts next to the bridge, it's a really vibrant part of the strip.
Visit an Irish pub
It can be pretty hard to find a good pub in Vegas, especially one that allows kids. Our favourite was the Ri Ra Irish pub at Mandalay Bay. They serve amazing breakfast with thick bacon, white pudding and Irish sausages and even real breakfast tea. The Guinness and Ales are also pretty good.
See the duelling pianos
One not for the kids but a great night out if you can get a sitter is the duelling piano bar at New York New York. The musicians are super talented and the crowd loves to get involved. The drinks are also pretty good.
Satisfy your shopping habit
You can hardly move around Vegas without entering some kind of shopping precinct. These range from designer, luxury stores for the gamblers who win big down to overly tacky souvenir stores selling shot glasses and fridge magnets.
One of the most popular is the Forum shops at Caesars Palace which is absolutely huge. It's home to 160 stores and restaurants with many designer brands including Armani and Gucci. Slightly less imposing are the Shoppes at Mandalay Place which is home to a Lush,  Guinness store, sweet shop and some bars and restaurants. For some great deals you'll need to head slightly out of town to the Premium Outlets where you'll find all the popular brands at amazing prices.
Show some love
We love all the love signs which have popped up over the US in the past few years. You'll even find one in Vegas. You'll find this one in the Venetian shops outside of Barneys. The sign was designed by Laura Kimpton with 12 foot high vibrant letters. It's the perfect place to strike a pose.
Splash in some waves
If you're missing the beach during your trip to Vegas then you can satisfy your wave cravings at the Mandalay Bay Beach. The stunning pool area is home to a massive wave pool, lazy river and a brilliant beach bar. Even if you're not staying at the hotel you can still book a cabana for the day. Read more about the pool area and our stay at Mandalay Bay and get booking!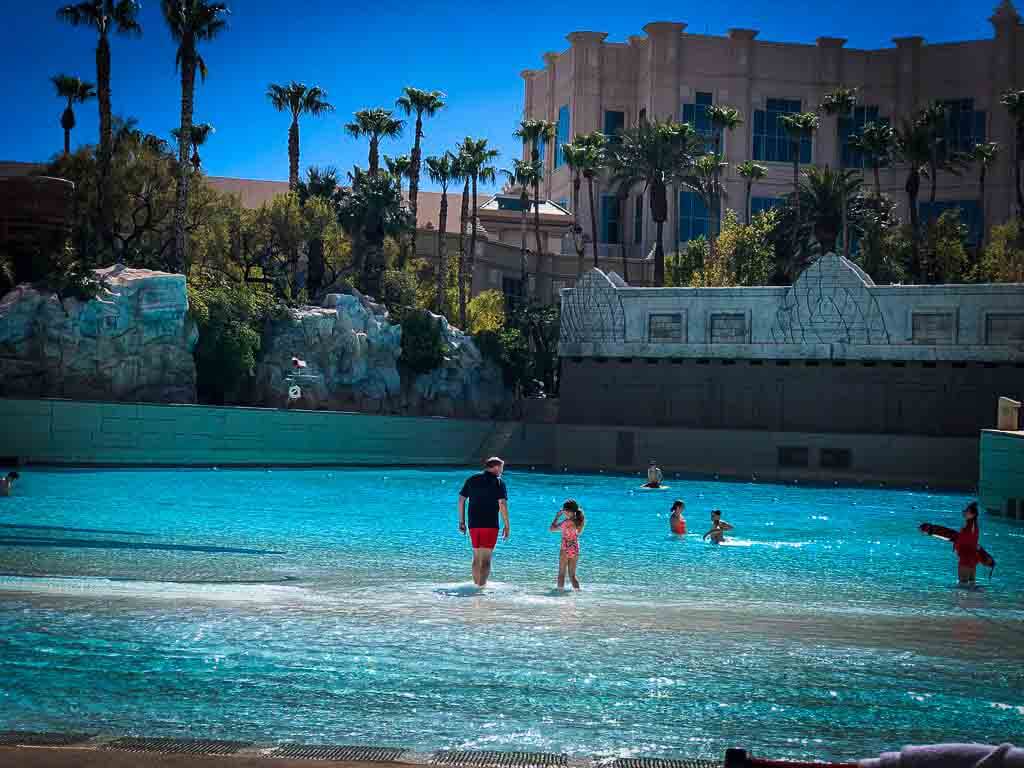 Satisfy your sugar cravings with a freak shake
Freak Shakes have really taken off over the last few years, with intricate creations popping up all over instagram and tik tok. If you're looking for the best freak shakes in Vegas then head to Black Tap restaurant at the Venetian. Their Crazy Shake menu includes cookies and cream, vegan cake shakes and peanut butter shakes. They're all absolutely over the top and totally delicious. If you're after something savoury they also serve craft burgers and ales.
Virtual Reality
Gamers will love a visit to the virtual reality area at MGM Grand. The virtual reality lounge can accommodate up to 8 players at a time and the 30 minute games include Zombie survival, Outbreak origins and Singularity about the space station. Gamers must be 13 and over
Listen to live music at the House of Blues
The House of Blues at Mandalay Bay is one of the best concert venues in Vegas. Showcasing all the best up and coming talent, DJs and famous faces. Concert nights are absolutely buzzing and the neighbouring House of Blues restaurant offers tasty food perfect pre concert.
Meet your favourite celebrity at Madam Tussaud's
Head to the Worlds most famous wax work museum at the Venetian Hotel for some old school family fun. This Vegas museum contains models of many famous faces such as Beyonce, Elvis and all the Marvel super heroes. There's also a virtual reality room and a brilliant 4d cinema.
Eat ALL the chocolate
Hersheys Chocolate World sure is the sweetest store on the Strip. Selling over 800 varieties of sweet treats to buy and during your visit you'll get to see a chocolate replica of the Statue of Liberty, take part in a Hersheys TV ad and even design your own chocolate bar. Yummy!
Have I included all of your favourite things to do in Las Vegas? Let me know in the comments if I've missed anything off.
Read Next: The Best Hotels in Vegas for Kids
Make sure you pin for later.