Las Vegas is home to heaps of amazing places to eat ranging from pop up outdoor food trucks to luxurious Michelin starred restaurants. But where are they suitable for kids? Whilst we rarely shy away from fine downing OR street food on our travels we have found some places just aren't welcoming to kids. So here is my round up of the best family friendly restaurants in Las Vegas for whatever your craving. Most of these are also pretty friendly on the wallet which I think is an extra win!
Make sure you also read my post on the best things to do in Las Vegas so you can tailor you meal options around you family activities.
Shake Shack Las Vegas
Kicking things off with one of the best value on the list and also guaranteed to be one of the most popular with kids. This is one of Pipers favourite family friendly restaurants Las Vegas has. Located next to New York New York hotel this famous burger chain serves all your favourites super fast so you can get back to exploring and having fun. No, it's not particularly healthy and in no way can be classed as fine dining but I think kids always love Shake Shack, it's something familiar if you're away from home.
Black Tap
Another family friendly restaurant in Las Vegas that's guaranteed to put a smile on the kids faces is Black Tap at the Venetian Hotel. The decor is bright and vibrant and the vibe is very relaxed and welcoming. They serve huge burgers and delicious fried chicken and even freshly prepared salads if you're feeling good.
The thing that will really attract the kids though is the massive selection of Crazy Shakes. Absolutely huge ice cream milk shakes in a variety of flavours, covered in whipped cream and coated in treats such as candy floss or strawberries.
Mercato Della Pescheria
St Marks Square in the Venetian is one of the best places to dine in Las Vegas. The seemingly open roof, street performers and vibrant atmosphere make it a really fun place to take the kids and there are several great restaurants bordering the square. One of our favorites is the Mercato Della Pescheria. It has an amazing selection of seafood and authentic Italian dishes to fill hungry tummies. The kids menu is fantastic with pizza, chicken parmigiana and spaghetti and meatballs complete with colouring and crayons. We were even able to enjoy an adult conversation whilst Piper was entertained!
The Hello Kitty Cafe
For something super fun and a little bit different head to the pop up Hello Kitty Cafe at The Park next to New York New York. It's one of my favourite places to sit and enjoy a strong coffee and people watch the Strip. This bright pink cafe serves loads of kid friendly favourites such as iced teas, donuts and cookies. You can also grab some Hello Kitty merchandise while you're there.
House of Blues
One of the best family friendly restaurants in Las Vegas we found for a full meal with little ones was the House of Blues restaurant at Mandalay Bay. This is a great place to visit when they have live music but for kids I think it's best to visit during the day when it's a bit quieter. Plus its super close to the Shark Reef Aquarium so perfect to pop in after a visit.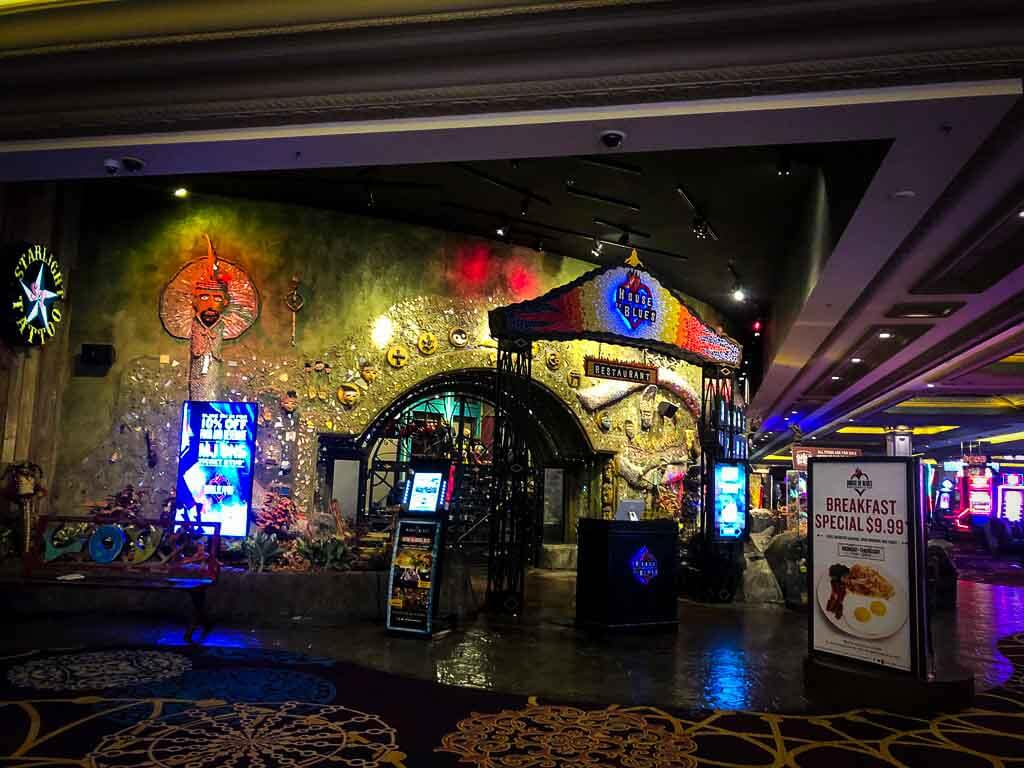 The House of Blues has an extensive kids menu with plenty of pasta options and fruit bowls and the Southern inspired adult menu uses fresh ingredients all prepared on site. Most of the entrees have a delicious kick.
Ri Ra Irish Bar
One to please the Brits reading this is the Ri Ra Irish Bar at Mandalay Bay. If you're craving a really good breakfast then this place in an absolute must. Serving real Irish bacon and sausages plus actual English Breakfast tea, it's a total delight. Kids can opt for beans on toast or smaller breakfasts. If you don't fancy the breakfast option they also serve a brilliant selection of salads, burgers and even a scotch egg. In the evening you can grab a guinness and some wings and enjoy the buzzy atmosphere.
Read my review of Mandalay Bay with kids to see what else the is to do in the hotel.
Gordon Ramseys Fish and Chips
What kid doesn't love fish and chips?! Gordon Ramseys fish and chips restaurant at the Linq Promenade just under the big wheel is the best place to eat it in Vegas. Your meal is delivered in boxes making it even more entertaining for kids. You can choose from cod, shrimp or even lobster and in a delicious bater. For the non seafood lovers you can have chicken or sausage. It's a sure crowd pleaser.
The food court at Luxor
If you're looking for cheap and cheerful family friendly restaurants Las Vegas strip side, then the food court at Luxor has heaps of quick and easy options to fill you up without breaking the bank. There's a McDonalds, Starbucks, Little Caesars Pizza, Nathans and more. These places are always great for kids because the whole family doesn't have to eat just one type of food.
48th and Crepe
For a super fast and tasty sugar hit to keep you going between meals, head to New York New York hotel and 48th and Crepe. It's my go to if we want some to eat and walk as we explore. Obviously the serve the most delicious crepes but also have plenty of savoury options such as eggs and bacon and ham and cheese crepes.
Which are your favourite family friendly restaurants in Las Vegas, let me know what I've missed in the comments.
Read Next: The Best Hotels in Vegas for kids.
Make sure you pin for later to remember the best restaurants for kids in Vegas.