If you're planning on taking the family to Las Vegas you'll need a super child friendly hotel to stay in. For me, MGM resorts know how to cater to all ages. There is so much at Mandalay Bay for kids meaning you can all enjoy the holiday of a life time.
Click here for the best deals for Mandalay Bay Hotel
Although Mandalay Bay is currently open, some amenities will be closed so it may not feel quite like our visit in early March 2020. Make sure you check the hotels website before arriving to avoid disappointment. As you can imagine, rates are at an all time low even for dates well into the future as Vegas just isn't what it once was. This is great news for family travellers who aren't visiting for the casinos or nightlife.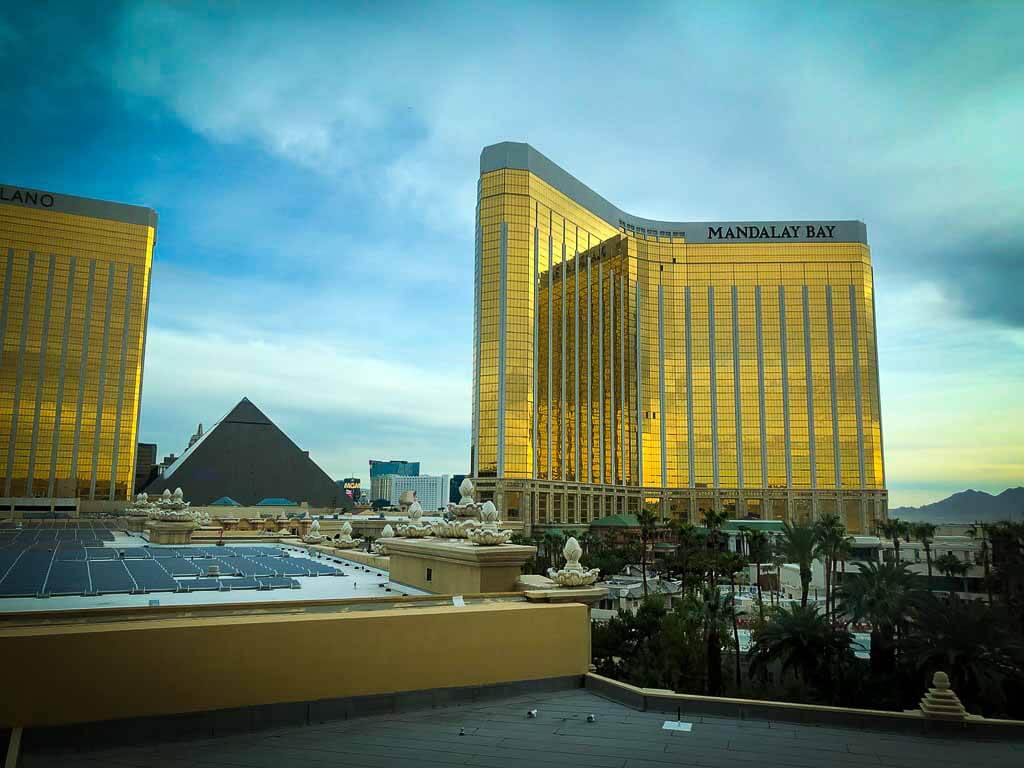 The Hotel
Mandalay Bay hotel is absolutely huge, covering with family friendly activities galore. The hotel is home to a whopping 3,600 rooms and suites, a convention centre, aquarium and numerous restaurants and bars. It's five star all the way but there are always great deals to be had.
The Pools at Mandalay Bay
Lets start with the most exciting part of Mandalay Bay for kids – the pools! If your children are anything like Piper, a pool is a must on any family holiday at Mandalay Bay does not disappoint. The pool complex is huge and if you need somewhere for the kids to burn off some energy or simply to shake of any jet lag, this is the area for you. I think it is by far the best pool area in Vegas if not the world.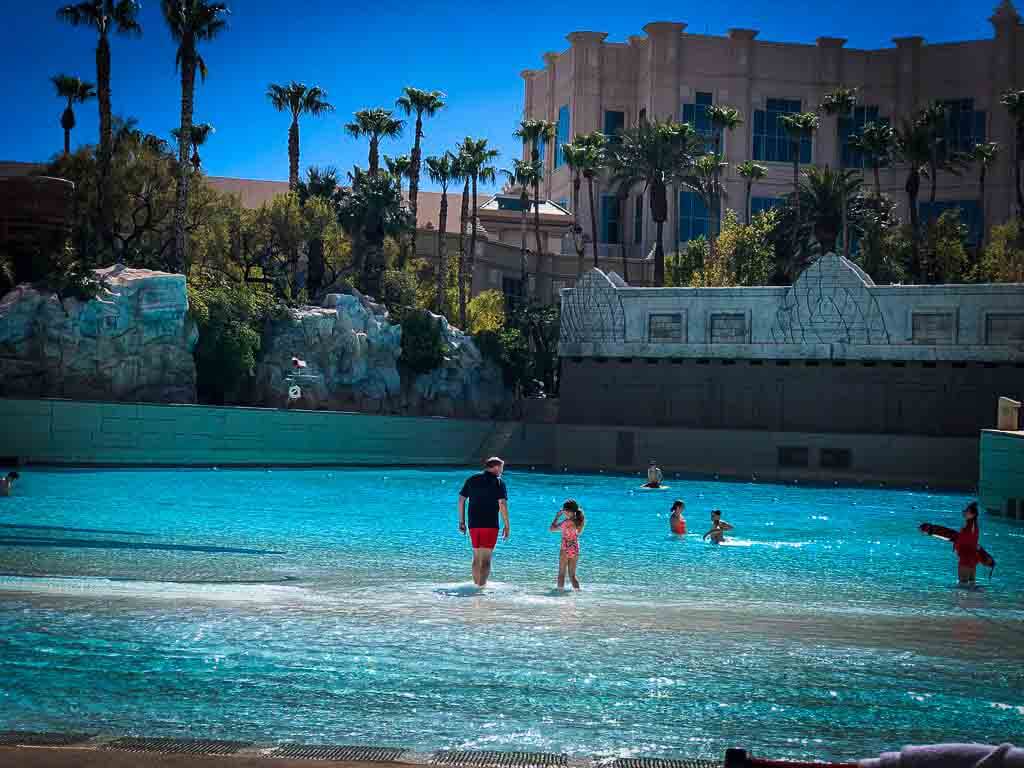 The area has been set up with a very beachy feel, bright sun-loungers in sand and even a wave pool. In total there are four pools available for guests at the hotel. The lazy river was probably our favourite of the water activities and is one of a handful located in Las Vegas. You can simply drift around the river or rent a tube to float on. They do limit numbers in the lazy river at any one time. This wasn't a problem in the cooler days of March but could be an issue over the busier summer months.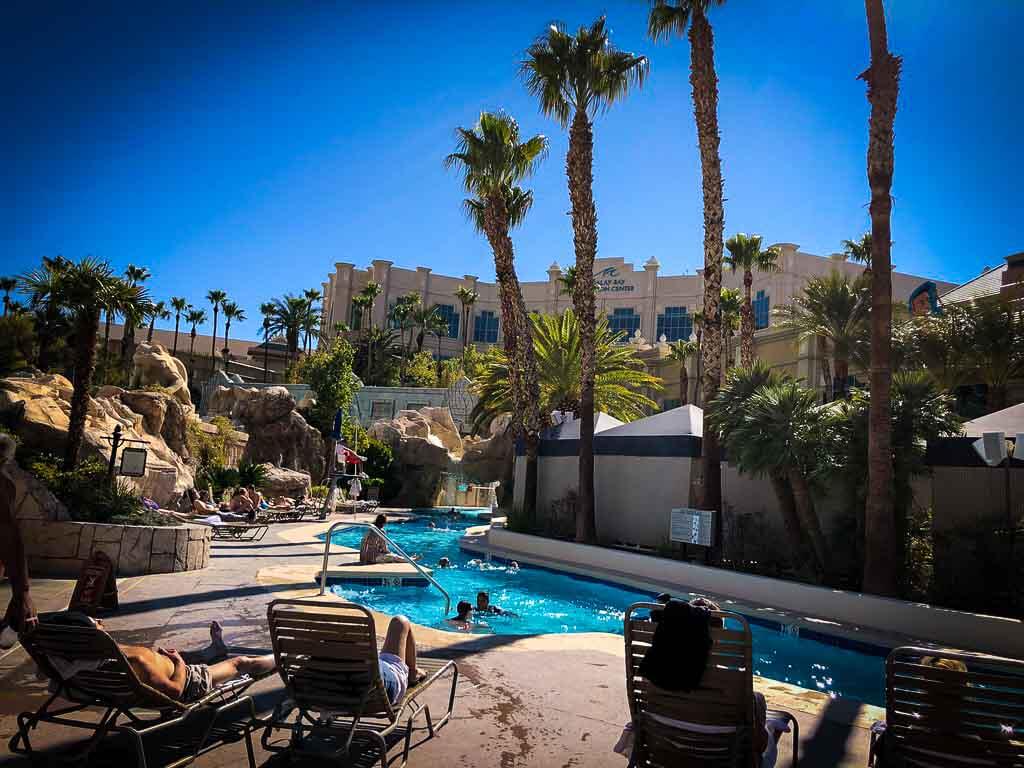 Whilst you're at the pool there are a couple of options for snacks and drinks. Servers do the rounds taking orders or you can head to the snack bar to pick up something yourself. The beach bar and grill offers all the usual poolside fare, burgers, fries and sandwiches including many kid friendly options. It's all pretty expensive but this is Vegas.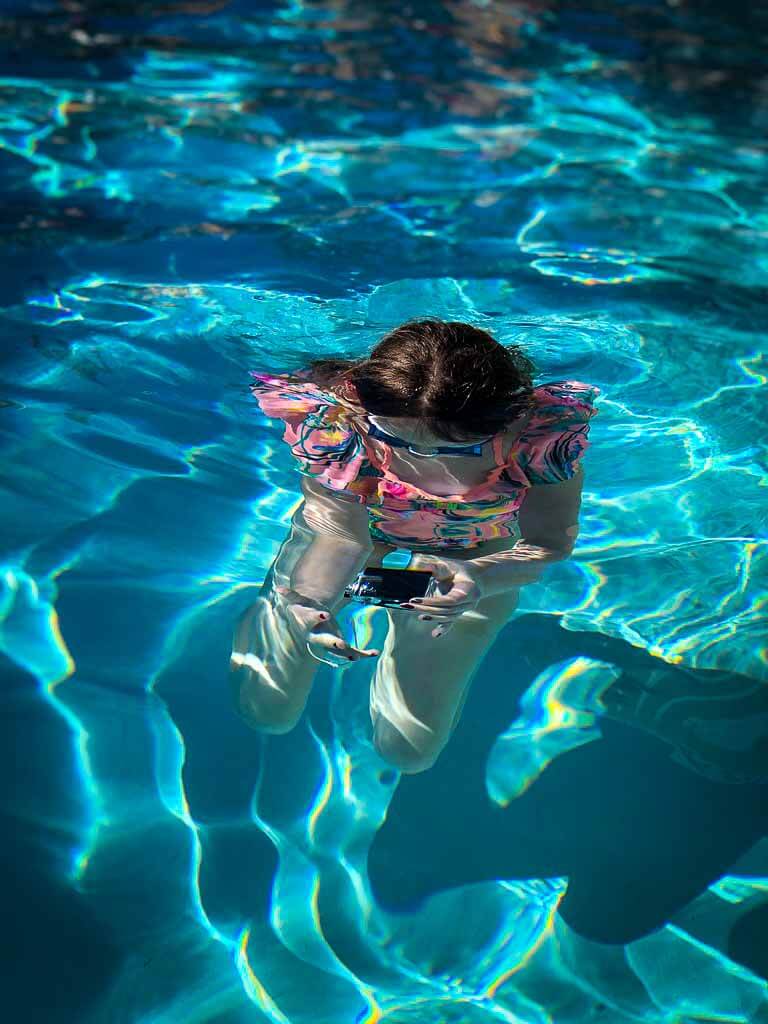 There are always plenty of lifeguards dotted about but make sure you keep a close eye on the kids. You can't be too careful. Mandalay Bay does close its pools out of seasons, this tends to be between October and March. When we were there in March it had recently opened but even on a clear day the water was pretty cold.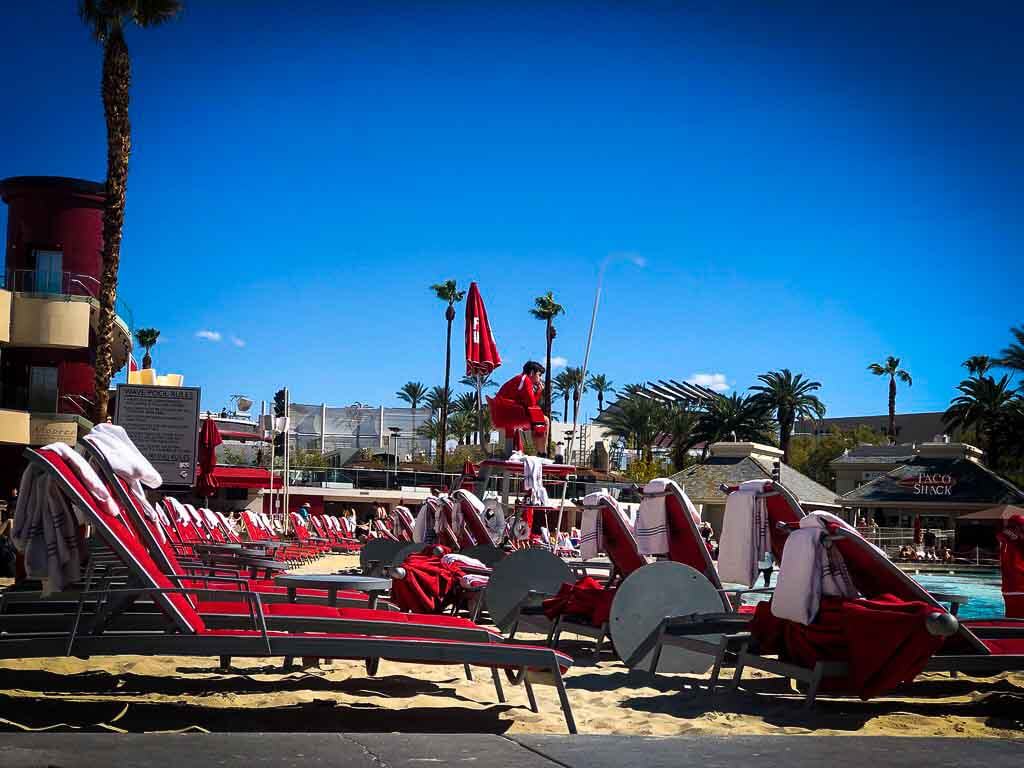 The Rooms at Mandalay Bay Hotel
I LOVE Mandalay Bay hotel rooms, theres always loads of space, the beds are massive and super comfortable and the bathroom was absolutely spotless. We only had a standard room and it was easily the size of a suite you'd find in the UK. Our room came with two large double beds, perfect for travelling with kids. The decor was decadent yet somehow subtle and the floor to ceiling window on the upper floor offered a brilliant view (our was to the Mandalay Bay beach). It had a separate seating area, mini bar and large screen TV. And my personal favourite, plenty of charging points for our many devices and good wifi for getting some work done.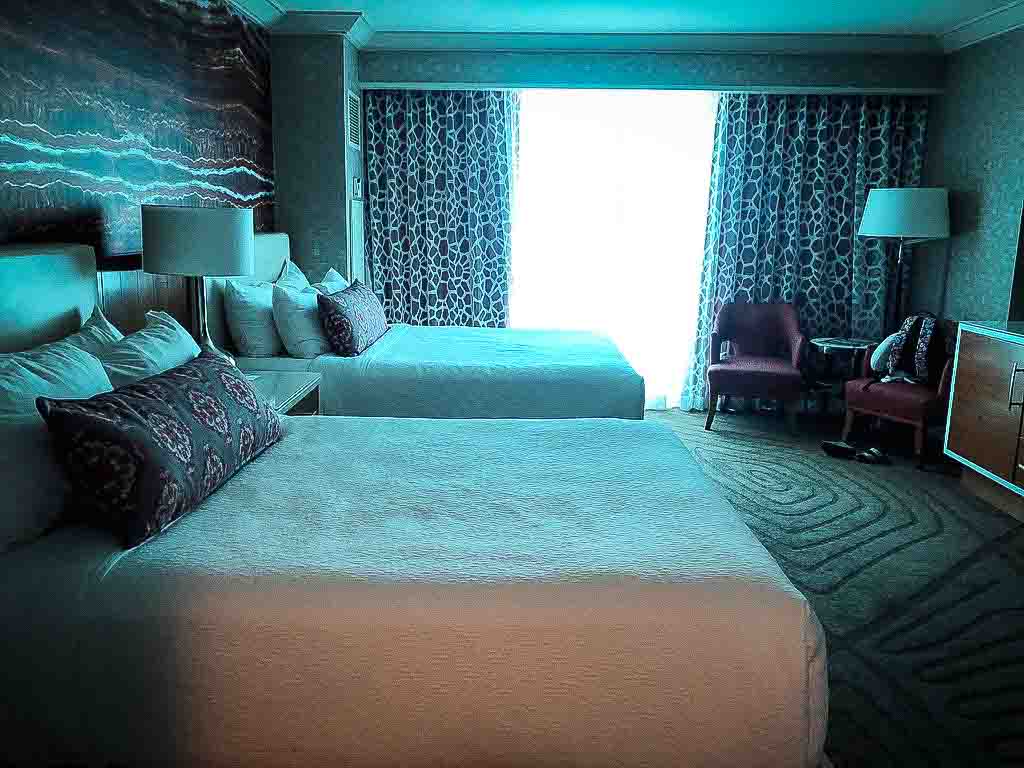 There were complimentary toiletries in the bathroom, a separate shower and a HUGE bath which Piper absolutely loved.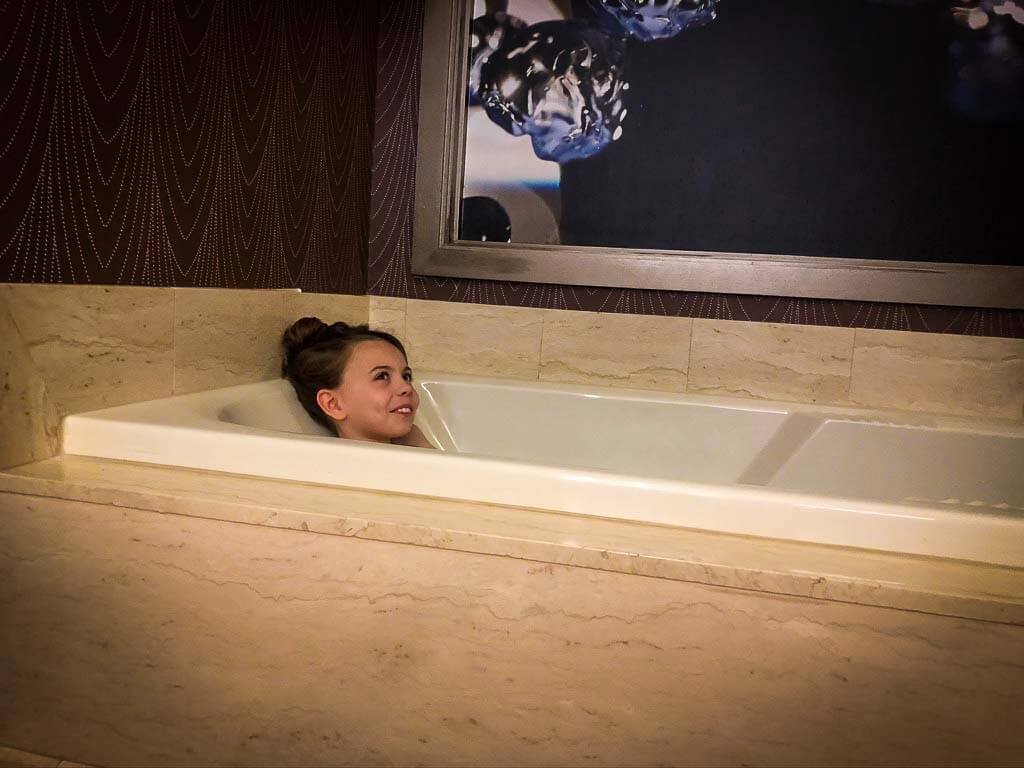 There's no kettle in the room which is pretty standard for the USA although it always disappoints when I just want a normal cup of tea. It also may make it tricky for warming baby bottles. You just have to head down to the Starbucks next to the Shoppes or one of the other restaurants serving hot drinks. There is a mini bar and some snacks available but we didn't touch them.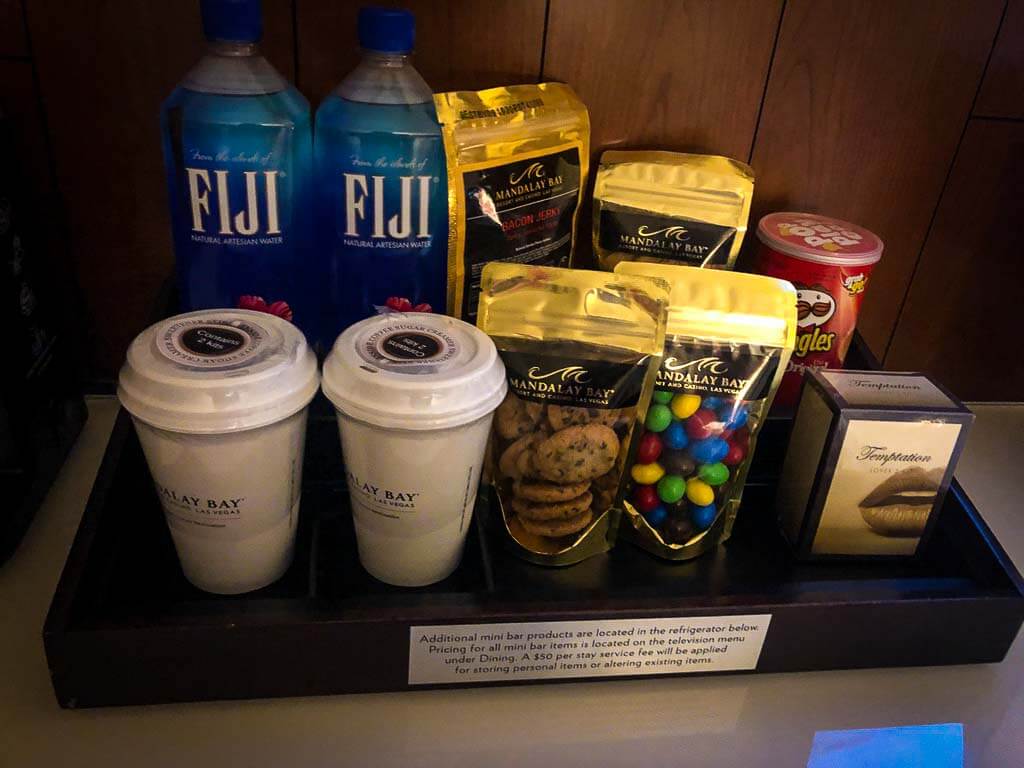 If you have a larger family and some extra budget then the Panoramic Two-Bedroom Suite can sleep up to six people and has two bathrooms.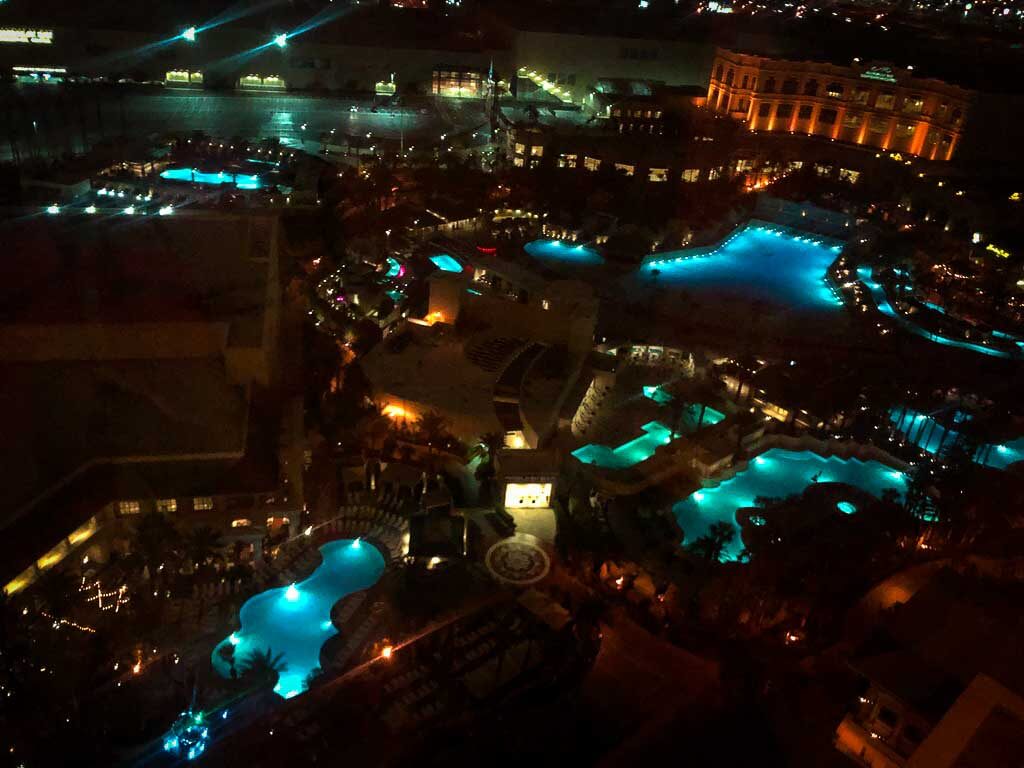 Check in is 3pm and check out is 11am. Early starts and late departures can normally be negotiated with the hotel for a small amount on top of the room rate. Well worth it for an extra day at the pool.
Book a room at Mandalay Bay Hotel
Location of Mandalay Bay Hotel
Being at the South end of the strip means the Mandalay Bay hotel is easily walkable to the famous Las Vegas sign. Something I probably wouldn't attempt most other hotels on the strip. It also means that it is one of the closest to McCarran Airport. Making it easy to both get to and leave at the end of your holiday. No one wants to travel far after a long flight.  Traffic on and around the Las Vegas strip can be painful, plus it's cheaper.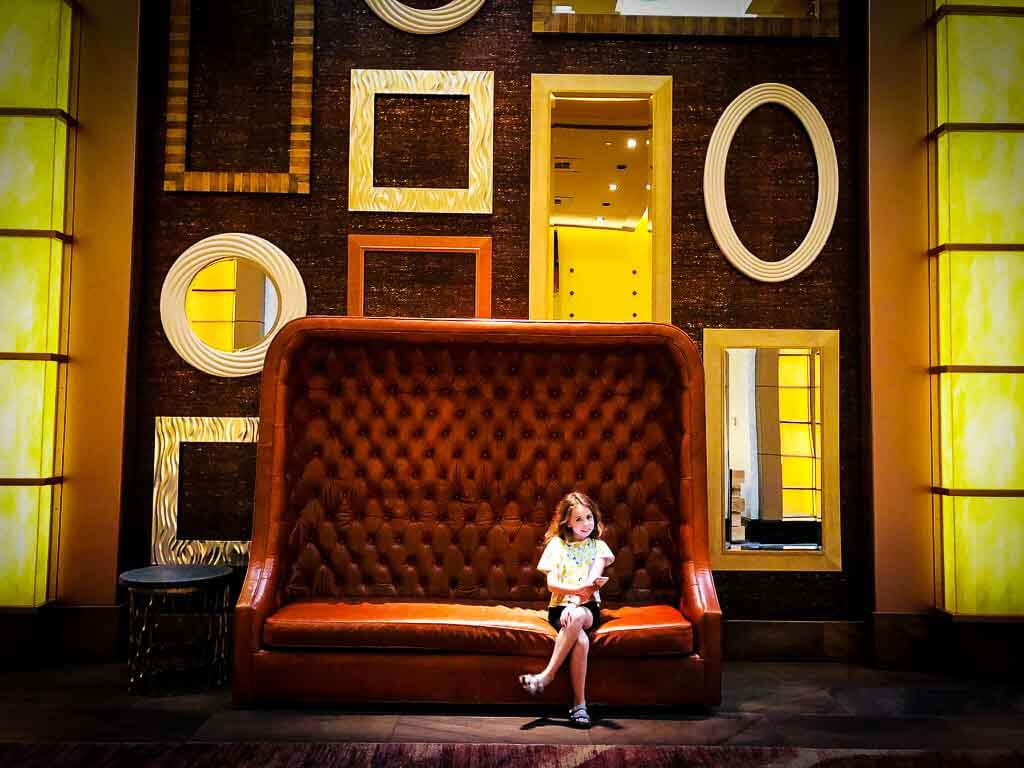 Whilst many people may be put off with its location being right at the end of the strip. This is why I think its one of Vegas's best hotel for kids. It is a bit quieter than the others, even less rowdy as the stag parties and weekend gamblers tend to prefer a more central location. The casino doesn't seem to get quite as busy as Ceasars or the Bellagio making it easy to walk through after a busy day exploring. The hotel is also connected to Luxor by a covered walkway and by tram all the way down to the centre of the strip.
Approximate distances from Mandalay Bay
The Las Vegas Sign:
Under 1 mile, 15 minutes walk
Paris Hotel:
Under two miles, 40 minutes walk
The Venetian:
2.3 miles, 50 minutes walk
Fremont Street Experience:
6.5 miles, 15 minutes drive
All of these are approximate times and distances. I find a big chink of our walking time is just getting out of the hotel, it really is massive. Do walk as much as possible unless you're under time pressure, there's always heaps to see along the route.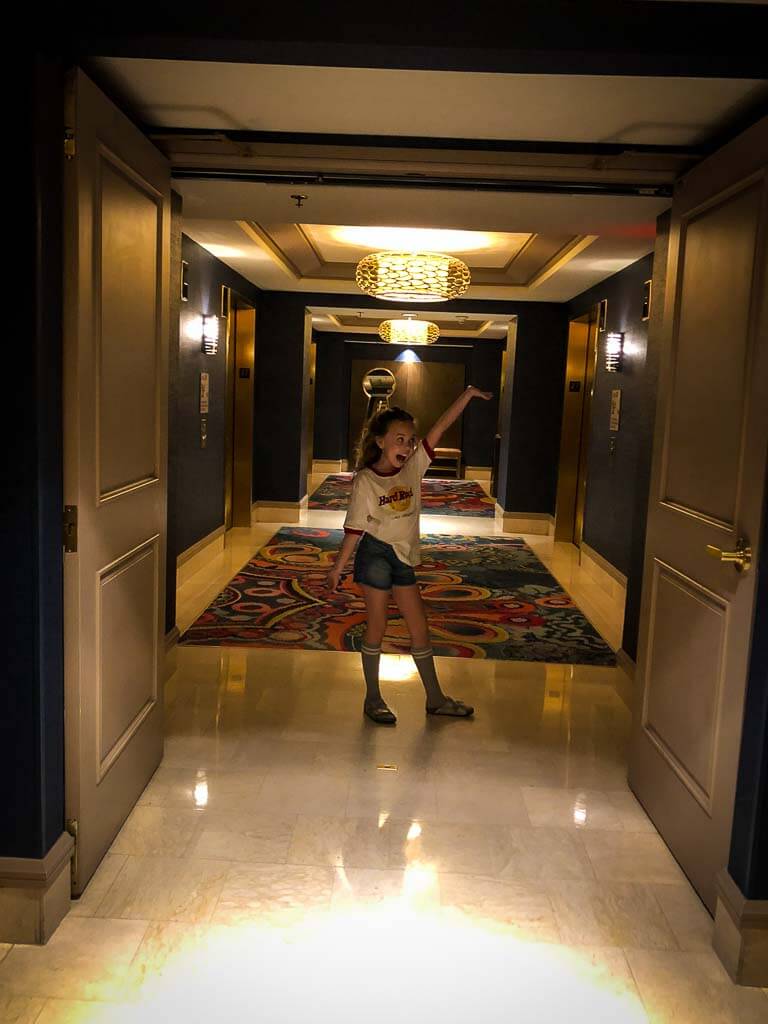 What to do around the hotel
This is the perfect hotel from which to see the Las Vegas sign, it's just a 15 minute walk down the road (head away from the rest of the hotels). Having flown in from the UK we spent the first few days very jet-lagged and waking up crazy early so this was the perfect time to visit the sign. We arrived before 9 and there was no queue. Just ask the resident Elvis to take a pic of you – or include him if you like, leave a tip and there you go. Iconic Vegas activity ticked off before breakfast! Make sure you check out my post on the best things to do in Las Vegas to see what else I recommend for your stay and none of them include gambling!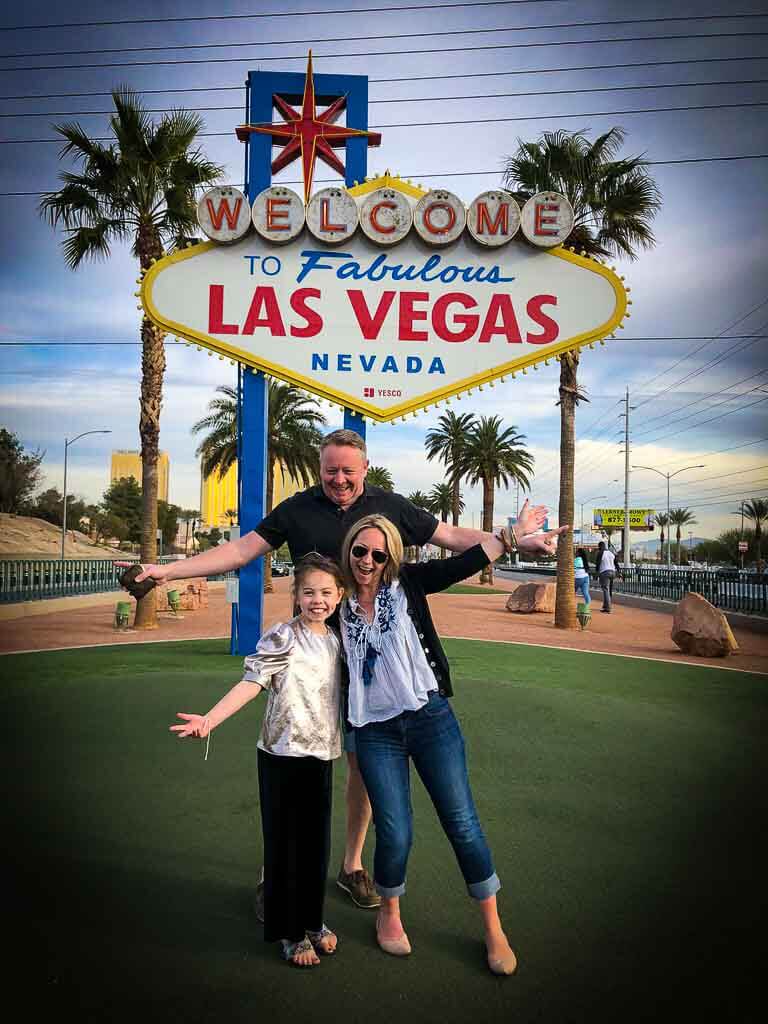 You can access two other hotels from the Mandalay Bay. The upmarket and exclusive Four Seasons and the Delano. I'm not sure why you would unless you are staying there but the walk through to the Delano was quite pretty.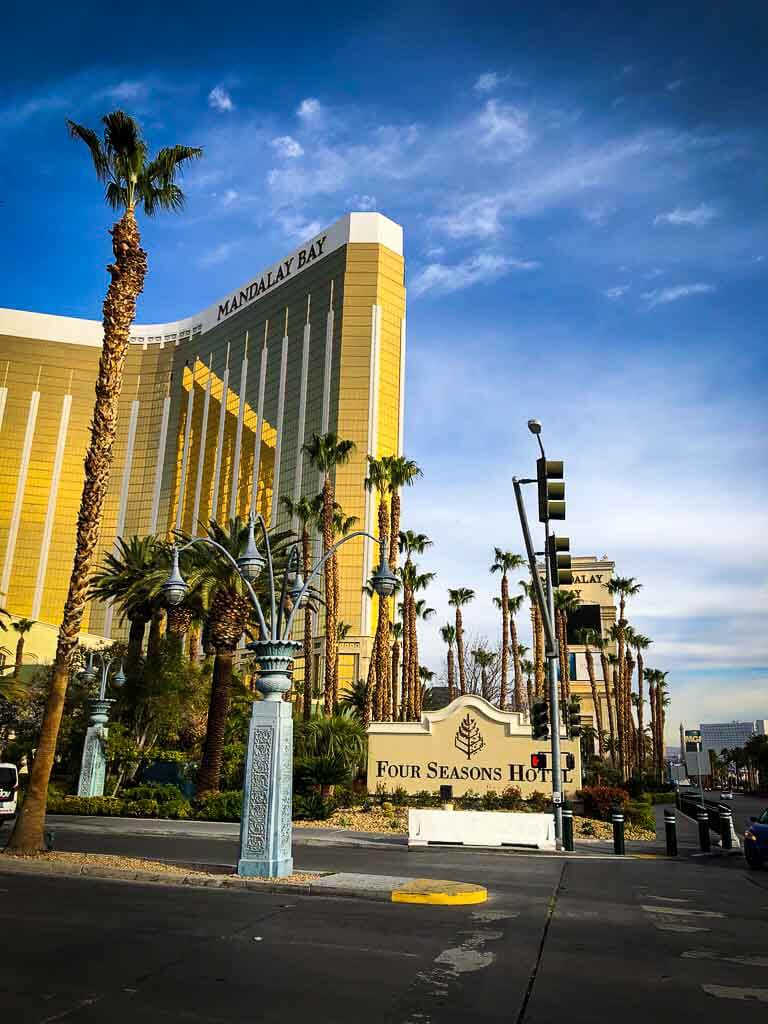 How to get to Mandalay Bay
The hotel is connected to Luxor (the one with the pyramid) by covered walkway through the Shoppes at Mandalay Bay.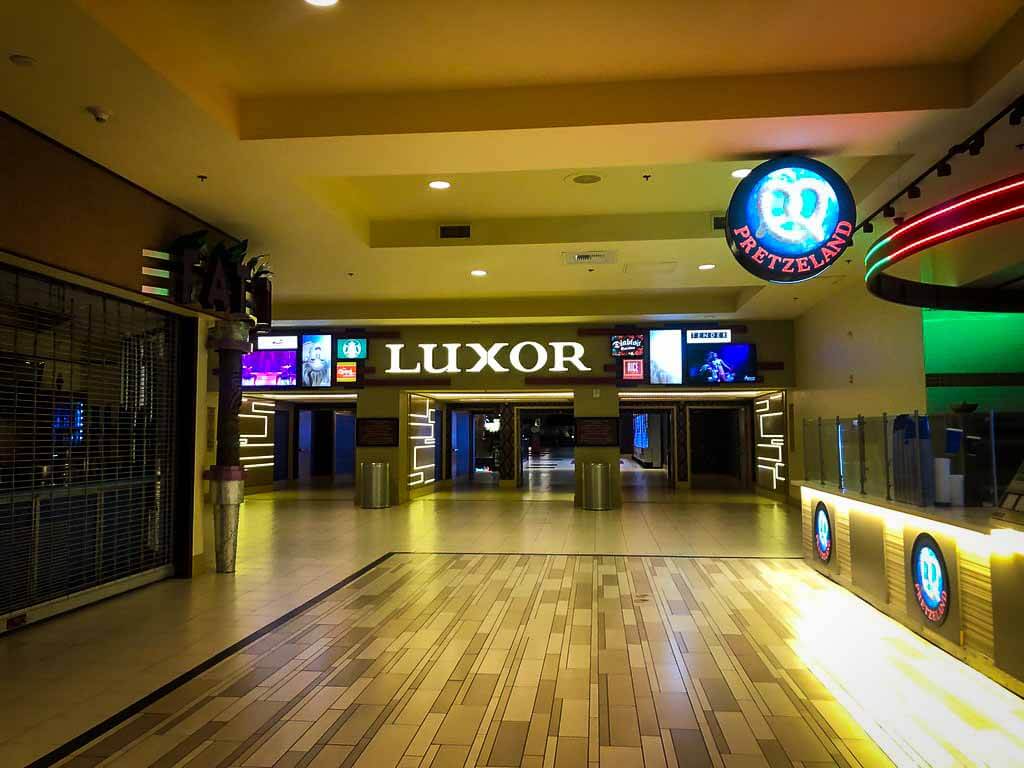 Mandalay Bay is on the overland tram system which is totally free to use and will take you to Luxor, then Excalibur. From there you're pretty much in the main action of the Vegas strip. We used this loads on our trip, it cut off the last half mile of our walk back at the end of the day. Plus it's a fun way for the kids to travel. Excalibur is just across the road from New York, New York, the MGM Grand and Planet Hollywood. All fantastic places to hang out with kids in Vegas.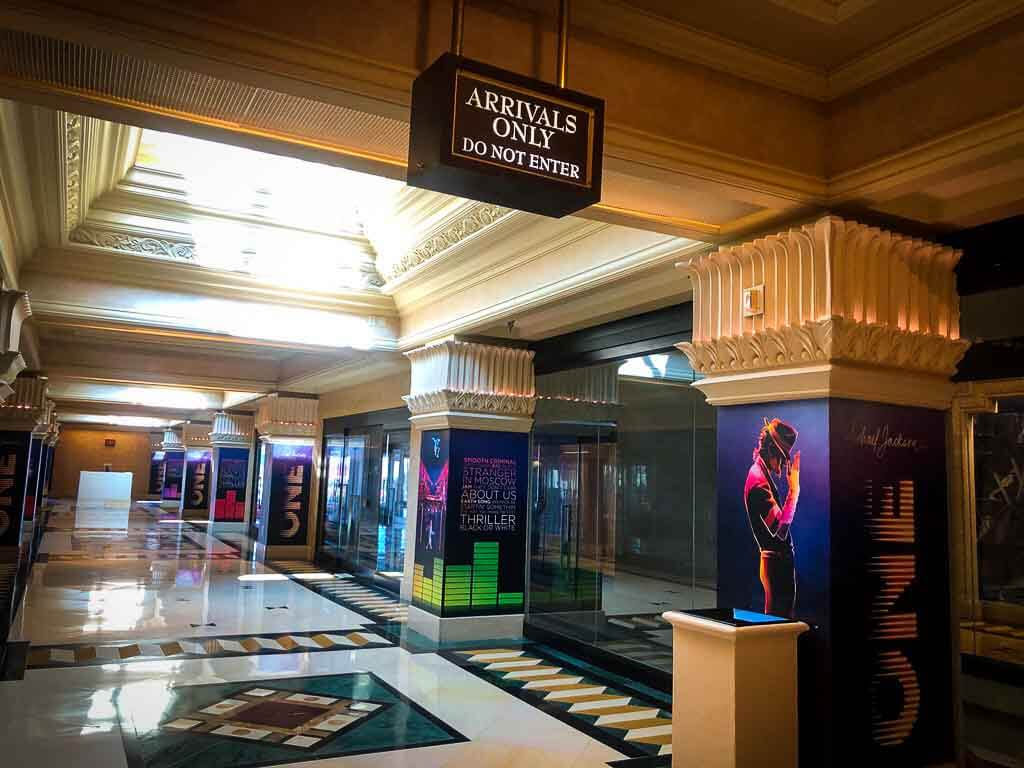 From McCarran International airport it's just a ten minute taxi ride which should cost around $20.
Family friendly attractions at Mandalay Bay
Shark Reef Aquarium
This is a must do if you're visiting Las Vegas with kids even if you're not staying at Mandalay Bay. The Shark Reef Aquarium is home to more than 20 species of animals with an amazing 14 interactive exhibits to keep the whole family entertained. It's not a huge aquarium but is a great way to spend an hour or two away from the pings and dings of the Vegas Casinos. The star attraction is the glass tunnel which will lead you under the shark tanks.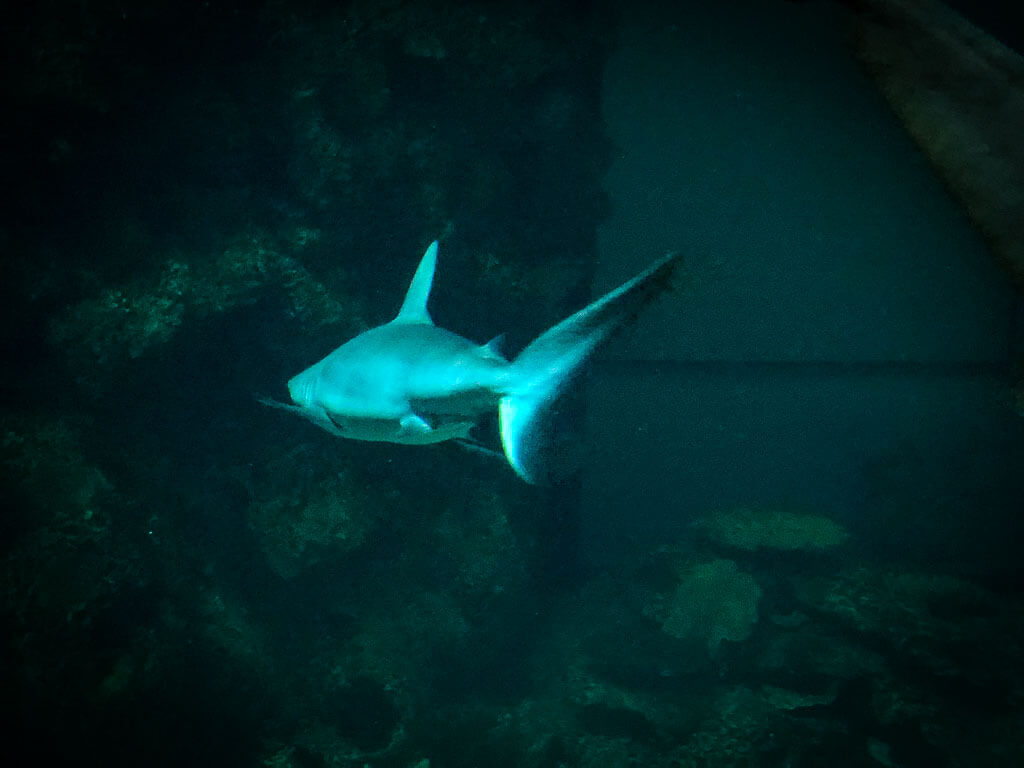 Michael Jackson One show by Cirque Du Soliel
A Cirque Du Soliel show should be top of your list when visiting Vegas with kids. They're all total wow moments and kids are bound to be amazed at the acrobatic talents of the actors. The one based at the Mandalay Bay hotel is Michael Jacksons One. Trust me, you don't have to be the King of Pops biggest fan to enjoy this one. The music only adds to the experience.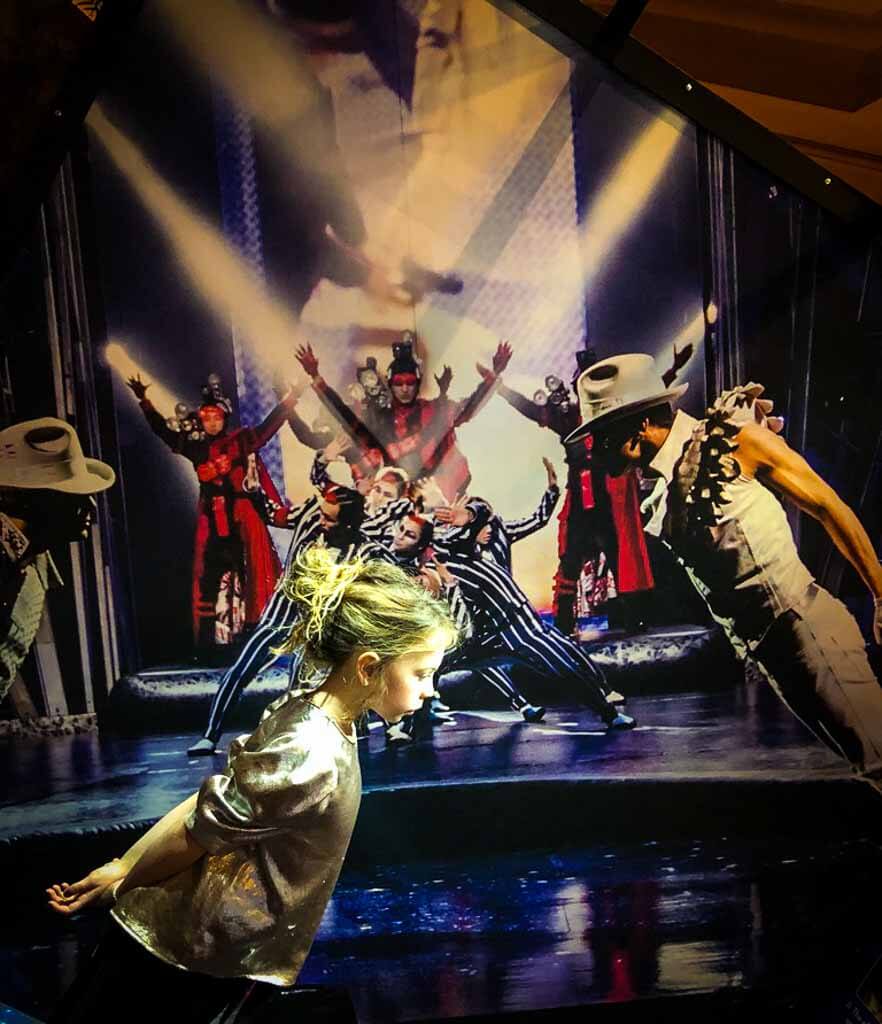 Shoppes at Mandalay Bay Place
Shopping is not exactly something I would recommend you spending your time doing, it's mainly overpriced with less choice than at home. But the shops at Mandalay Bay are quite good fun with some very child friendly ones thrown in. When we were visiting Vegas, this was the location of The Happy Place, a wonderfully bright, immersive experience which has unfortunately now closed.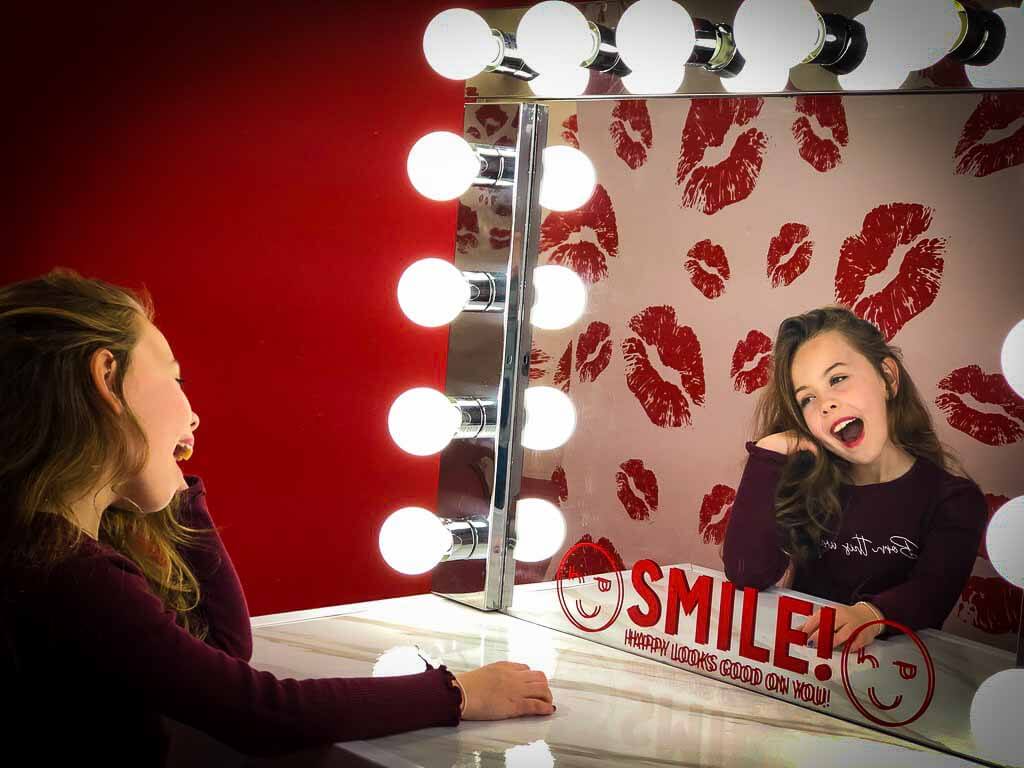 Here you'll also find a Lush cosmetics where we purchased some fun bathbombs and the sweet shop Lick where Piper was in absolute heaven!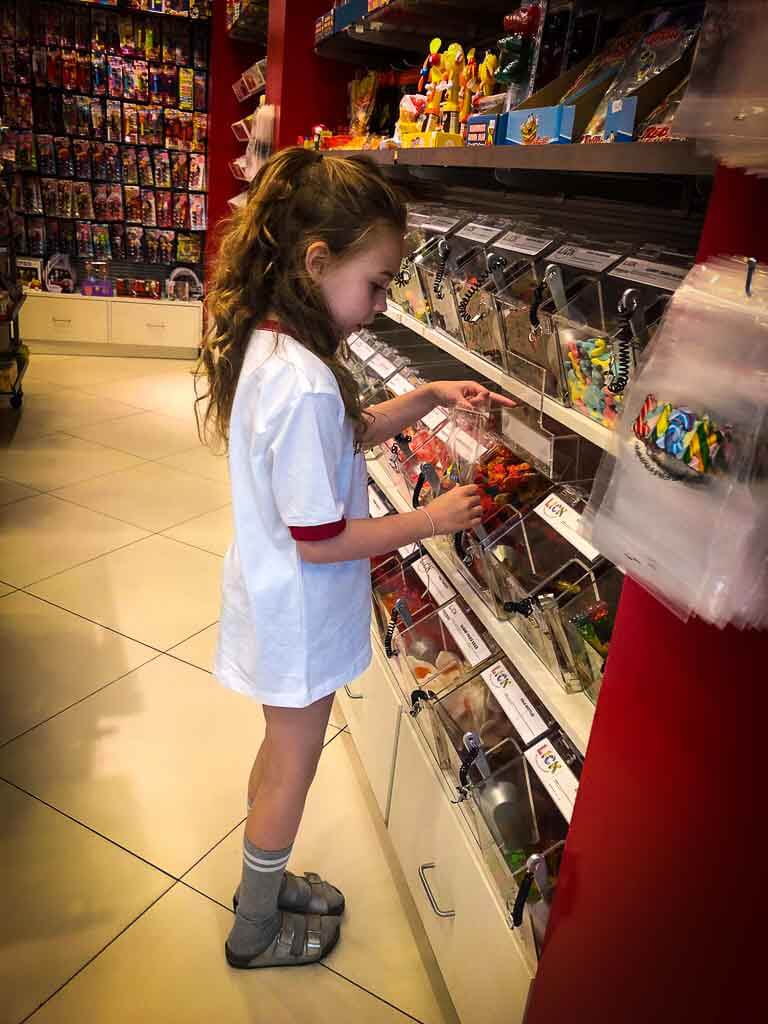 It's also home to an Ice bar where the adults can enjoy some frozen cocktails and an amazing Irish bar which does the most amazing food, perfect for us homesick Brits!
House of Blues
This became one of our favourite places to eat at Mandalay Bay with its fun atmosphere, friendly servers and extensive kids menu. It's next to the House of Blues concert hall which might be fun to book in for if you're there for a night with a good band.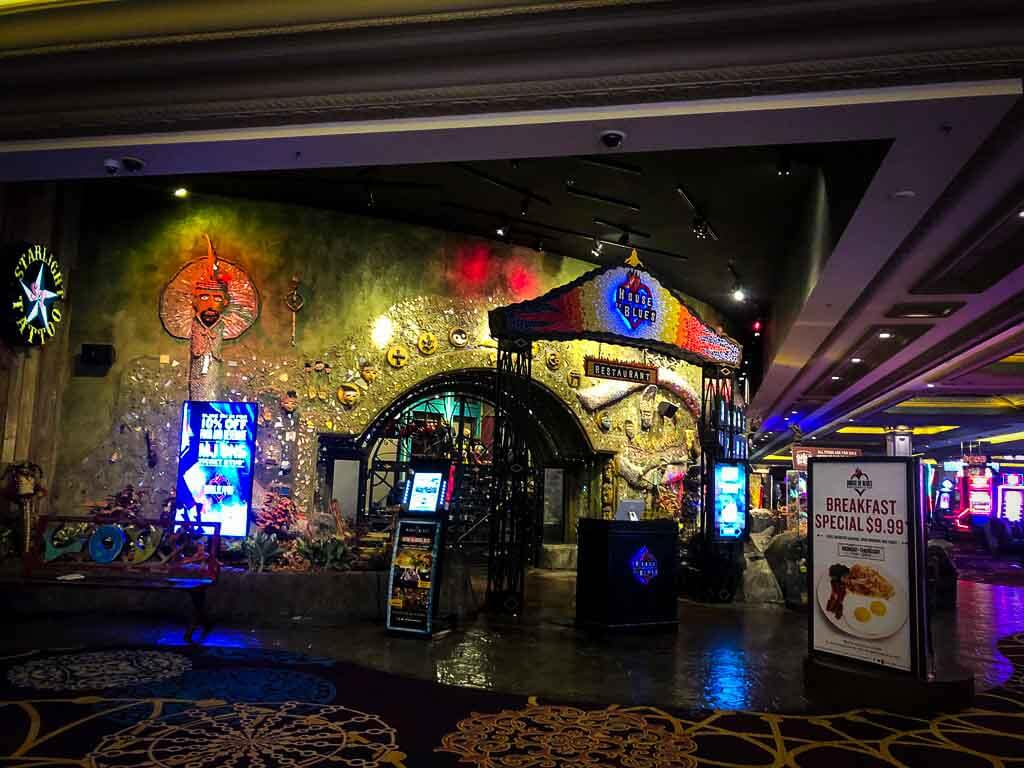 Where to eat with kids at Mandalay Bay
I'm sure you have a long list of high end restaurants you want to try in Las Vegas. Every single celebrity chef seems to have one but they're not always that great for kids. Finding somewhere to eat at Mandalay bay for kids is easy. It's home to several kid friendly places to eat, most of which wont cost a small fortune. We often shared meals anyway, the portions are just huge. These are my favourites for family dining, there are also around 20 other restaurants to choose from!
Citizens Kitchen and Bar
This is a good one for relaxed dining we pre packaged lunches or made to order meals. It's comfort food all the way, perfect if the little ones are having a meltdown. It's located next to the main casino floor with a very funky lit sign, you can't miss it! I had a delicious caesar salad which totally cured my healthy food cravings – I really struggle in the USA. Mr AWTYK opted for a slightly less healthy burger which also ticked all the right boxes. Mains are around $15-$30 each. We didn't see a specific kids menu but the side dishes were extensive and portion sizes perfect for sharing.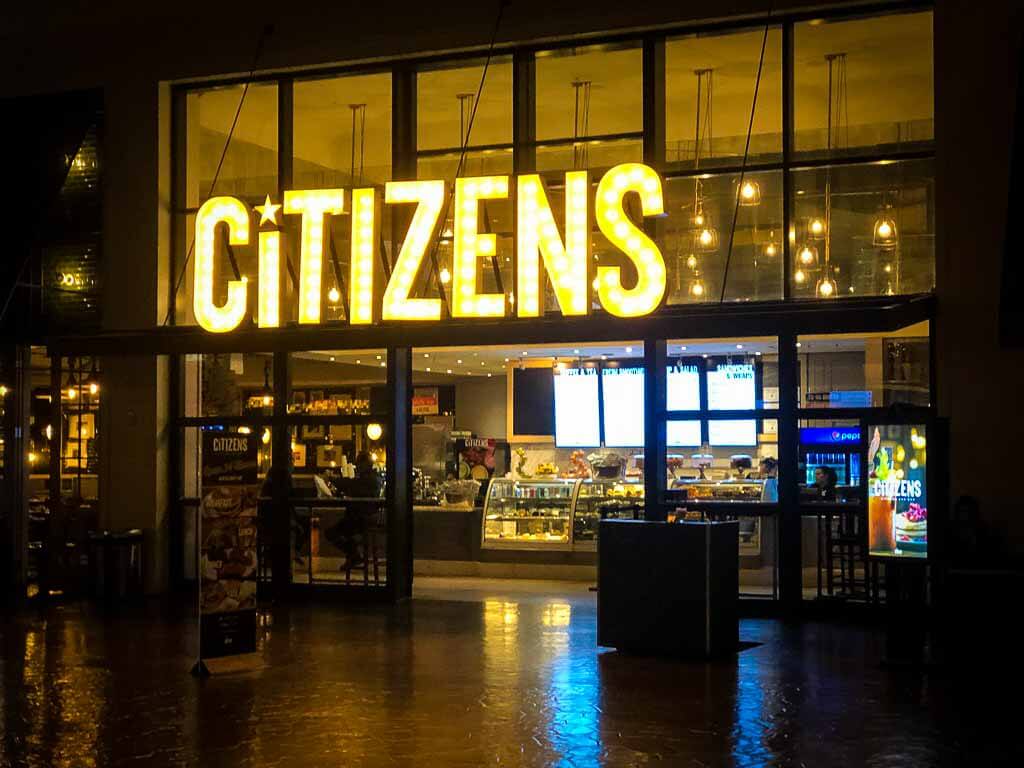 House of Blues Restaurant and Bar
As mentioned earlier, this became one of our go to restaurants. It's super child friendly unlike many places in Vegas and they have specific kids menus which come with colouring pens and an activity sheet. This is Southern inspired cooking and everything I tried was delicious, most with a good kick of spice. There decor is eclectic and super fun to take in as you enjoy your meal. They often have live music on stage. I highly recommend the cajun pasta…  just amazing and Piper loved her chicken tenders and fruit bowl.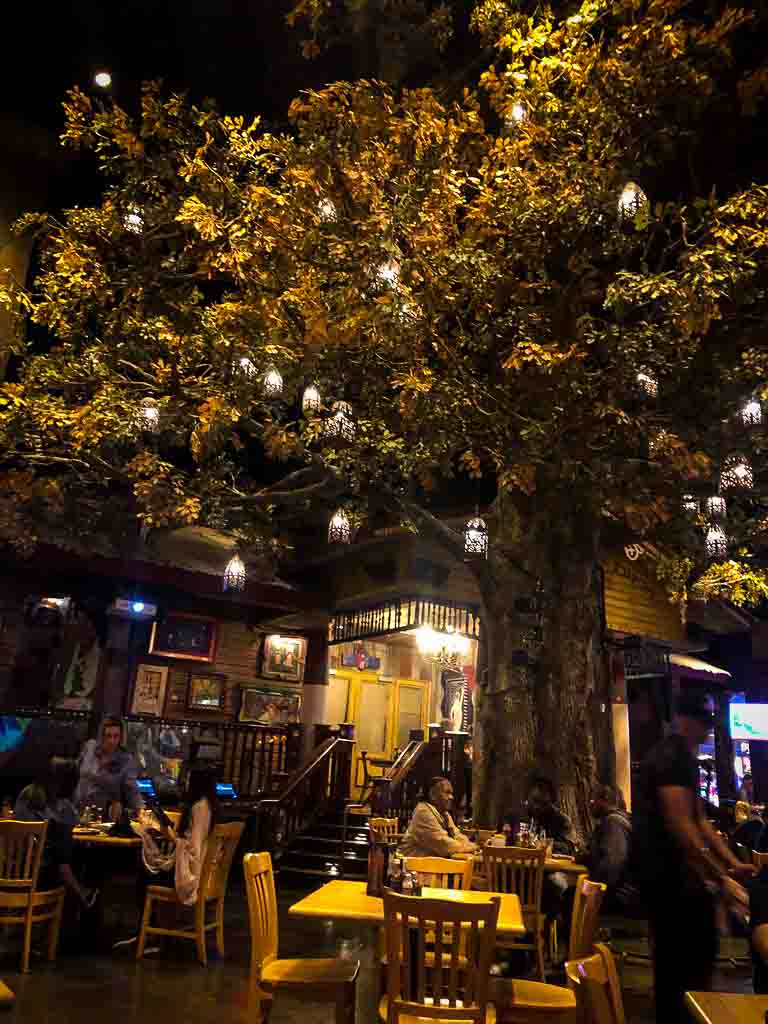 Mandalay Bay Food Court
For great value grab and go, the food court near the Shark reef aquarium is a great option. There's plenty of canteen style seating and various food kiosks offering burgers, hotdogs and sandwiches. I love American food courts, it means the whole family can choose exactly what they fancy, perfect for picky kids. Plus its always way cheaper and quicker than eating in.
Slice of Vegas
Located in the Shoppes at Mandalay Bay this is exactly what it sounds. Pizza heaven! A 12″ will set your back $13 and if you can't decide which one to choose there's also the option to build your own. Piper unfortunately does not eat pizza (madness I know) but luckily could choose from several pasta dishes to keep her happy.
Libertine Social
We ate here on our first night in Vegas, heavily jetlagged and in need of stodge. It's probably more of a cocktail bar or adult restaurant than the others I recommended but we all still enjoyed it.  The food menu is very limited but we order a selection of small dishes which were all delicious. The ribs and pretzels were particular favourites.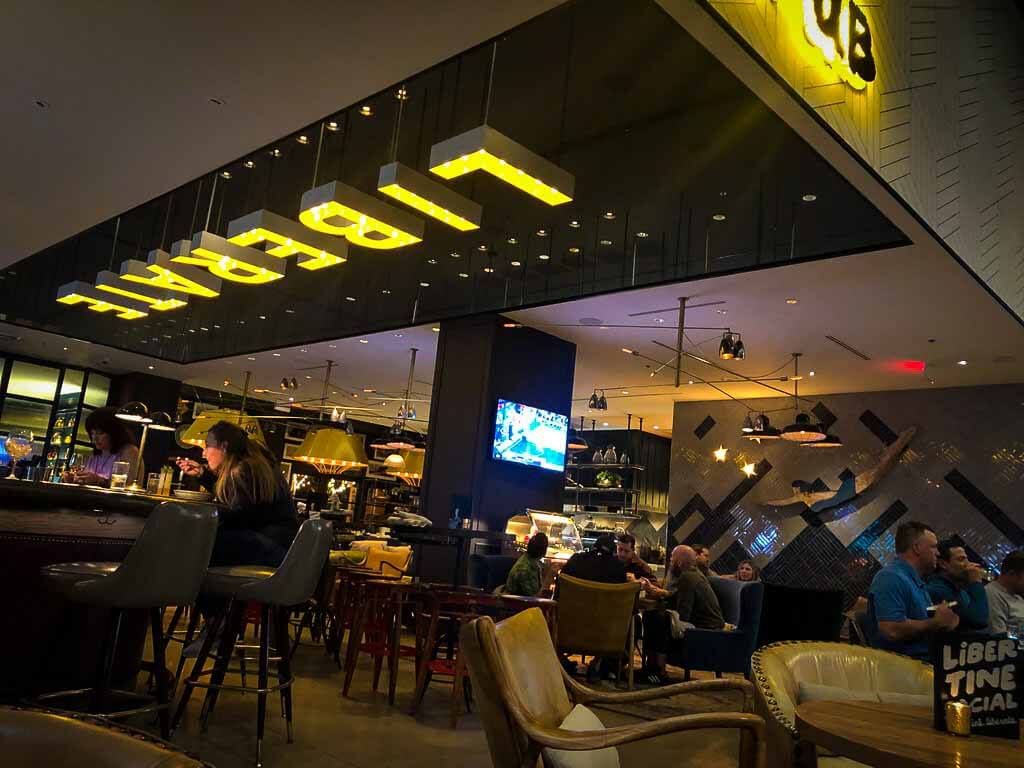 Breakfast at Mandalay Bay
When you're slightly stuck on UK time so waking up mega early in Vegas, breakfast becomes one of the most important meals of the day. Most days I was up at four craving a coffee hit so found myself wandering the hotel just as the night time revellers were getting back! Once I'd found my caffeine (mostly at Starbucks) it was off to find somewhere for breakfast. Here are the best places for breakfast at Mandalay Bay.
Ri Ra Irish pub
We only found this on our last morning and I really wish we'd discovered it earlier. It's was the perfect place for us Brits to enjoy the traditional breakfast we were all craving. Plus they had real English tea and real bacon, oh my goodness we were in heaven. There were some lighter options for Piper and we gorged on an All day Irish Breakfast and an eggs benedict. Worth every single penny.

Starbucks
My usual go to for breakfast is a Starbucks, coffee and a bagel is normally enough for Piper and I and its a good way to keep the costs down if you're not that hungry. There are several Starbucks at Mandalay Bay, we opted for either the one by the entrance to the Shoppes or near the convention centre.
Citizens
This is another great one if you wake up hungry. This is American style breakfast prepared hot and fresh for you. Coffee comes with free refills and it was practically empty early in the morning. Our meal was not cheap, coming in at $60 for the three of us but I think thats pretty standard in Vegas.
For more great kid friendly restaurants in Vegas make sure you also read this post.
Parking at the hotel
Mandalay Bay is currently offering free self parking. The car park can be found off Frank Sinatra Drive. Valet Parking is currently closed because it would not be safe to do so.
Mandalay Bay charges a daily resort fee of around $40. Ouch! This covers access to the beach and gym, wifi local phone calls so be sure to factor it in to your budgeting.


In summary, there is so much at and around Mandalay Bay for kids and it's in the perfect location for a family holiday to Las Vegas. Whilst not exactly cheap the value for money this family friendly resort offers is well worth the booking.
Pin for later for when we can book travel to Las Vegas again.